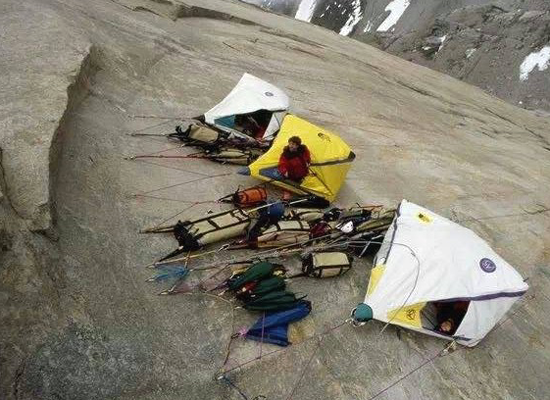 Trekking at high altitudes and hiking on rocks and mountains of the Himalayan landscape could be an experience beyond comparison. Above all ascending the heights of the great grand Himalaya often mixes up the immense pleasure, adventure, exploration of remote areas and self-realization.
Walking on narrow rugged treks in the hills may make you very tired but the feeling of reaching at snowy heights overpowers that fatigue. The three main things trekkers need to undertake while walking on tough treks or crossing a mountain pass are- extreme care and caution, courage and determination.
Cautions While Trekking
No matter
if you are an expert trekkers or a beginner, extra care has to be taken while walking on snowy treks or steep mountain slopes. A person must not show over-confidence while walking on snowy path.
The temptation to save time and distance can be fatal so avoid taking shortcuts at all costs. Also, boulders and debris roll down from mountain peaks at regular intervals so walkers need to be alert about such events.
Another important thing a trekkers should keep in mind is that trekking should be done at your own speed. Since you are trekking to quench your thirst for adventure and not to compete with others, you must not overwork yourself.
Useful Trekking Tips
Do not get separated from your group. You must have at least one companion with you even if you lag behind your team members for some reasons.
Your feet are the most essential part of your body when you trek. So buy a good pair of trekking shoes and be sure they fit comfortably. Do not buy shoes with flat soles.
Thermal innerwear, a pair of sunglasses, trekking pole, a torch, a tent and a sleeping bag are other major things to be carried along while you go on trek.
Do not use deodorants, hair sprays, perfumes, etc. while trekking. You can wear antiperspirants. At high altitudes, the sun remains hot and its UV rays are more intense. Make sure you apply plenty of sunscreen to protect your skin from harmful effects of UV rays.
Abstain from smoking and alcohol when you walk through the enchanting nature. Plan your overnight stay. Find a suitable place to show a camp before dark.
There are innumerable Trekking Places in Himachal. The beautiful valleys of Manali, Chamba, Kullu, Kangra, Kinnaur, Sangla and Spiti are endowed with a good range of tough trekking routes, mountain passes and steep slopes, making Himachal a paradise for trekkers, hikers, climbers and mountaineers. Trails in remote Trekking Places in Himachal are so rocky, bumpy, gravely and uneven that one must be fit mentally and physically to undertake the journey. All the popular Trekking Places in Himachal attract both tourists and adventure lovers.
The Author is an expert in writing Articles for Travel, has a passion for adventure. For more details you can visit Tourist Places in Himachal Pradesh.
GD Star Rating
loading...
Trekking in Himachal How to Do It

,