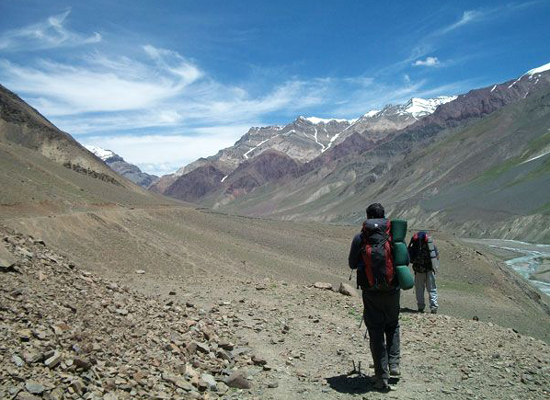 Many of us love to make our lives adventurous, exciting and thrilling. Trekking has become one of the most preferred and adventurous sports now-a -days. It kind of gives you a feel of the nomadic lifestyle, the thrill and anxiety of being so close to the nature, of experiencing the highs and lows of our nature, our environment and getting to know its beauty in the true and right sense. And what better place to give yourself a run for adventure and sports and full-on excitement than the great mountains and valleys of the pristine Himachal which includes a vast strand of The Himalayas.
Trekking-dangerous fun
Himachal Pradesh is a land of so many trekking sites spread over the Himalayan range. The most renowned trekking sites are the Dhauladhar and the Pir panjal ranges, routes over the passes between Shimla region and Kullu valley and the numerous, vast treks of Kullu. Also there are certain select, specific treks in the regions of Kinnaur, Lahaul and Spiti.
Himachal is a land of pure natural and scenic beauty and these treks prove to be a great opportunity to explore the wilderness. The top trekking places in Himachal are the Pin Parvati pass, which is full of lush green and colourful flora and fauna. This trek provides a wonderful view of the pine trees as the whole trek is surrounded by big pines.
This pass includes Sar pass which is another scenic magnificence for the nature lovers out there. It's a hilly track and includes crossing over a lake covered in snow. Next is the Beas kund, which starts from Manali and provides a remarkable view of lush greenery, glaciers and is famous for its sky slopes. This is a good choice for a traveller who wishes to have a good sight-seeing along the way.
The Chandra taal lake, is another tourist attraction for its crystal clear waters, its arid meadows and landscape which forms a good camping site. Other top trekking sites include Chanderkhani pass, Triund glacier, Kinnaur Kailash circuit, Mani Mahesh Lake and the Bhabha pass trek. All these trekking destinations provide a remarkable and noteworthy adventure in the slopes, cuts and valleys of the praiseworthy Himachal.
These trekking places also provide a great view of the famous and auspicious temples, monasteries etc enroute the track for the tourists and the pilgrims. The trekking places in Himachal provide the scenic beauties of the wildlife, the forests, meadows, glaciers. These trekking destinations are abode of pure and simple magnificence.
GD Star Rating
loading...
Trekking places in Himachal-wandering over the Himalayas

,