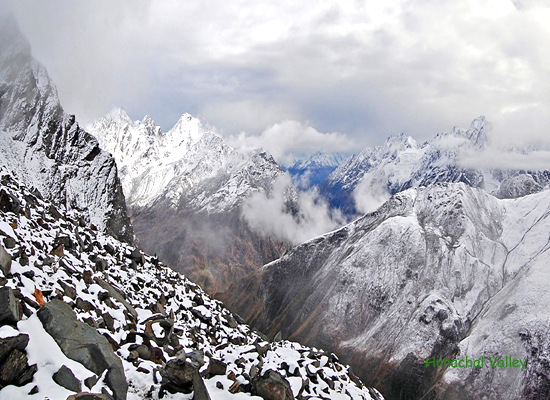 Not at all for the unprepared or faint hearted we assure you! Located at a height of 4895 meters above the sea level, the Bhabha pass trek is one of the highest and best treks of the Himachal treks and it is full of sights and valleys to last with you for a lifetime!
This trek should take you 3 days to reach and your base is in the small village situated in Bhabha pass valley of Kafnu which is full of apple plantations and grass as well as a hydroelectric plant.
This trek will take you through fabulous valleys full of pine trees in Kinnaur and Mulling valleys and also some mini trek trails like the Pin Parvati trail. Rising in altitude as you go.
Carrying supplies and a guide is very necessary although they come in many shapes and sizes and choosing the best type for you is very important. Finally, walking through ice you will reach your summit, amazing views satisfaction and Buddhist flags (stationed there) will follow!
After reaching, you will be led through the loveliness of mud full of houses and grass, Kaza which is overlooked by high mountain ridges on all sides.
This exclusive experience will make you make you believe in heaven with the lush green grass and steep mountains and the rocks peeping through. There are many river tributaries you will come across and with white gushes of foam but try to keep focused or you may get lost in this wonderland forever!
This trek can be done the other way from the Spiti region also ending up in Kafnu but then you would not end up in Kaza with its Kee Buddhist monastery, the river Spiti and another small trek through Rohtang valley to Manali.
Your adventures will keep on coming when you reach Manali and you can soak in the divinity in the Shiv temple there in the Solang Valley and also the Hadimba temple in Manali itself.
This trek will leave you tired, exhilarated and reach highs of happiness that only trekking in Himachal can give you. It is possible that you will come back again and again. Be sure to bring friends, guides, supplies and strength in bucket loads. We hope to see you soon!
GD Star Rating
loading...
Adventure trekking at its best - The Bhabha Pass

,