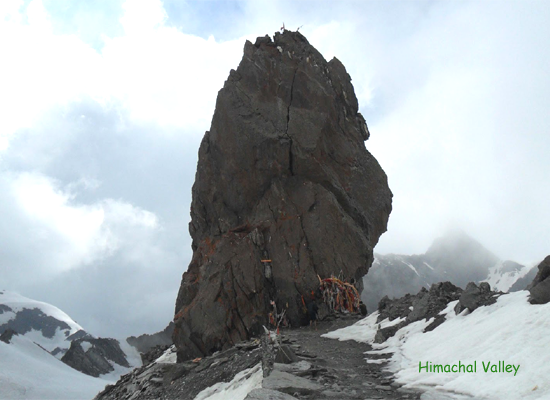 The Shrikhand Mahadev trek is hard core trek and is named after the Hindu god Shiva. It is a very popular trek for devotees and the extreme trekkers. Those who truly exhilarate in tough climbs will find this possibly the best trek, most adventurous trek and most rewarding trek in the whole of the Himachal trekking ranges as well as maybe the whole of India.
This trek is only open for 15-20 days between 15th July – 15th August in a year so you will need to plan ahead. This rock that has been formed by melting glaciers from the Himalayas that resembles an out sized Shiv Ling (a form of Lord Shiva) the biggest you will ever see at 90 feet in height. To see and encounter this thing of true natural beauty you have to trek to before you start your real trek!
From Shimla you have to go to Rampur via bus and then to Nirmand. You will need to travel further to Bagi pul and finally Jao village before setting off on your yatra/trek to Shrikhand Mahadev. This truly astonishing piece of sculpture by nature sitting at a height of 5155 meters above sea level.
It gives panoramic views that are truly breathtaking. The views while getting there are also amazing in its lovely green soft mountainous meadows. You will surely let yourself take a dip of nature and feel the heavenly delight.
The high altitude makes it little uneasy to breathe so you have to be physically fit before planning for this trek. Once you will reach here, you will see the deity imprinted on the rock of the Himalayas. As a blurring fact, mythology and belief, it is one amazing sight not just for the eyes but for the mind, soul memory.
Never to be repeated or replaced in your experience once you have trekked through this trail, only to be savored and felt for years to come. The best adventure trekkers always wanted on this trail, come join us to the top and enjoy the splendor of Shrikhand Mahadev.
GD Star Rating
loading...
Shrikhand Mahadev: The trek that sounds sweet but tastes so much better!

,