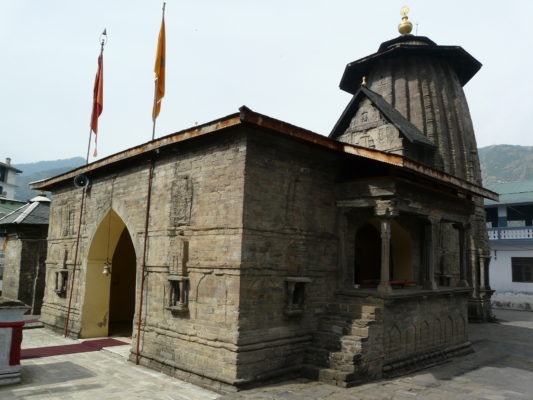 A perfect example of the Shikhara style of architecture, the Laxmi Narayana temple is a popular stopover for tourists visiting Chamba. The Shikhara architecture is quiet popular in North India.
Following the marvelous architecture, the temple has a tall and wavy tower and its facades are divided upwards into vertical sections. The top most section of the temple is bell-shaped.
Build by Sahil Verman in the tenth century; the Laxmi Narayan temple proudly stands as the oldest as well as largest temple in Chamba.
Since, a number of emperors ruled Chamba; the temple reflects their contribution to its glory. When I reached the temple, I saw a mesmerizing pillar placed in the entrance. The pillar was embellished with a fascinating metallic image of Garuda.
It was striking and beautiful. Later I asked a local resident and he told me that it was contributed by Raja Balabhadra Verma, who ruled Chamba from 1594 to 1623. The same person told me that once Aurangzeb ordered to destroy the temple, but instead of obeying his orders, the then king, Raja Chhatra Singh got the top portions of the temple covered with gold during the 1678.
During the tenure of Raja Chhatra Singh, the temple complex got some more shrines which added to the beauty of the Laxmi Narayan Temple.
The temple complex is an abode to six shrines which are devoted to lord Shiva and lord Vishnu. The main idol of the temple is of Lord Vishnu and it is a beautiful idol made up with a special marble. The idol is not only beautiful, but it has a story attached to it.
According to the legends, the marble with which the glistening idol stands came from Vindhyachal Mountains. It is said that Sahil Verman sacrificed his sons in search of the marble. Out of all, eldest of the eight sons, Yugkara got successful.
It is also said that while Yugkara was on his way back, some robbers attacked him, but with the help of a saint, Yugkara came with the sparkling and glistening marble, which is now the main idol of the temple. The other shrines of the temple are dedicated to Gauri Shankar, Radha and Krishna.
GD Star Rating
loading...
Beautiful Shikhara architecture of Laxmi Narayan Temple Chamba

,