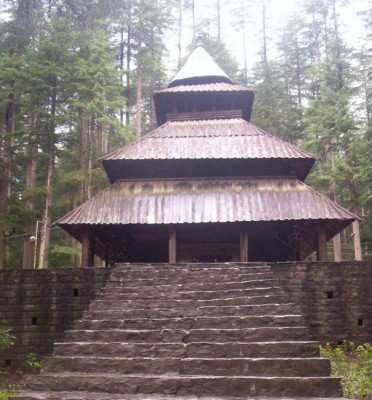 Also known as Dhungri temple, the Hadimba temple is one of the most important spiritual places in the Kullu district. It has its own importance as far as the spiritual beliefs are concern. Located amidst the forest named as Dhungiri Van Vihar, stands this four storied wooden temple. Dedicated to the Goddess Hadimba, the temple was built in 1553.
A regular stopover of tourists, the Hadimba temple has amazing pagoda style architecture. Interesting and alluring, the temple has a tower and it has square roofs clad with timber tiles in three tiers. The conical metal roof stands in pride at a height of 24 m.
As I told you the architecture of the temple is interesting, the plain walls of mud, the stone work details and the wooden door embellished with tiny illustration of Hadimba devi, her attendants and animals. There is a fascinating beam on the doorway, which shows the Navagrahas and scenes of female dancers from mythology etc.
The most interesting thing about the temple, which kept me in admiration was, that there were no idol inside the temple. Just in front of the entrance, there was a rock, beneath which there were footprints. I asked the pandit ji of the temple and he told me, that those were the imprints of Hadimba devi's feet and devotees worship the imprints.
The temple story allured me and I got little more curious. So, I talked to the local residents. They gave me some insight to the folklores attached with the temple. During the early times, brother of Goddess Hadimba, ruled the valley. After his death, Hadimba devi got the powers to rule. She ruled till her son grew up and took the charge.
So, Hadimba devi, left for forest in search of solace and she meditated in a forest. It is believed that the 500 years old, Dhungri temple was made in the same forest which was abode of Goddess, during her meditation time.
Each year, on 14th of May or the first, 'Jaith' a fair is organized in the temple premise on the birthday of Goddess. The fair lasts for three days and to celebrate the fair, locals as well tourists come and visit the temple.
GD Star Rating
loading...
Spiritual Importance and Beauty of Hadimba Temple Manali

,