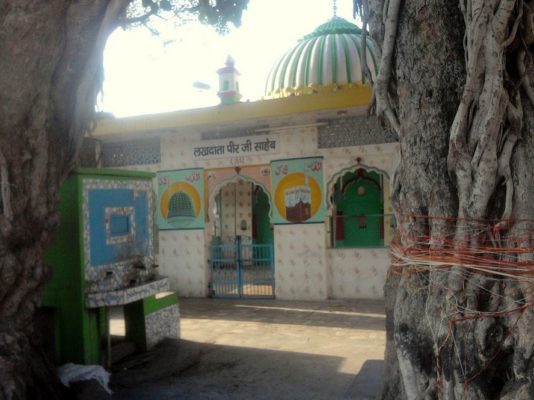 Nestled in the arms of Mother Nature, Nahan is a beautiful town founded by Maharaja Karam Prakash in 1621. Now the fascinating town is the Distt head quarter of Sirmaur. Nahan was once a princely state and because of this reason, one can see many heritages in Nahan.
One of the oldest municipalities in the country, Nahan is a serene and tranquil town. The beauty and climate of the town has some magic and it is an old saying that, Once you visit this town you will fall in love with it.
Apart from many other stories, there is a very famous story of the curse by a dancing girl and because of which, the town experiences deluge and total devastation.
Everyone tried to find out the solution to stop the destruction, and then a wise man from the Raja's court suggested the king to get two bricks and some mud from turbut of Lakhdata Peer of Multan, which is now a part of Pakistan.
Being born and brought-up in Nahan made me believe in the powers of Lakhdata Peer. Whenever in doubt or dilemma, I used to visit Lakhdata Peer and the place always gave me peace and, I used to feel tranquil and blessed.
I believe in the charm and supernatural powers of Lakhdata Peer. Once I visited the shrine and I was Lucky to meet the priest of the dargah, Bobby Khan, who is paying his duties to the place since generations.
Khan told me that, It was around 250 years back when the bricks and mud from Multan were laid in Nahan near Pucca Tank, later the dargah was made. Since then generation by generation my family is serving the lakho ke data Lakhdata.
A regular stopover of tourists from in and around Himchal Pradesh, the dargah opens for devotees on every Thursday. Lakhdata Peer has some mystical powers of arbitration and people visit him hoping to get their wishes fulfilled. The lucky charm and magical powers of Lakhdata Peer are famous among people who believe in the miracles.
While discussing about the architecture and history of the place Khan told me a very interesting story about Lakhdata Peer.
Around 250 years ago when the town was more like a forest with two or three prominent places, once the two prince of the town were going for hunting and both of them stopped the drum beaters of the dargah both of them felled and their limbs were broken all the hakims and vaids failed to cure them.
Then the Maharani of Nahan town went to Lakhdata Peer for help. She said she will offer churi that is baked roti crushed with jaggery and construct the place into a dargah when she returned back to her palace both the prince were fighting fit and she thanked the Peer and ordered to construct the turbut i.e. shrine of the peer.
It took just two days to build the dargah and since then people not only from town but nearby places come to Lakhdata Peer.
I have seen people visiting the holy place with tensions on their face and problems in their minds, but while leaving the place they feel tranquility and serenity. Out of all the people who were coming to the dargah some brought with them Jaggery cakes, some had salt packets or brooms and some came with a glass of mustard oil and aromatic sticks.
When I asked Khan, he told me that if a person asks for help from Lakhdata Peer and his problem vanishes, he offers some regards to the Peer. Luckily, I met Khan's father, Gafur, who was taking care of the shrine before Bobby.
He told me something interesting about the offerings done in Lakhdata Peer. Gafur said, If you have some skin problem you can offer salt as niaj, the offering made to god after your skin trouble is gone. For problem in limbs, one can offer baked and crushed roti with gur or jiggery.
For common problems, one can offer broom and oil as niaj. If couples without a child offer gur and red cloth unmarried people tie holy thread near the pole of the dargah and they are blessed with spouse even the barren lands become fertile by the blessing of the Peer if chinj, local wrestling is performed in that land.
The Khans also update me that Lakhdata Peer was a holy man from Multan, also known by various other names in different place for example, in Punjab, his Lala Wale Peer, in Pakistan Sakhi Sarver. He was very close to Allah and people believe that he had supernatural powers to bless people who were seeking help.
GD Star Rating
loading...
The Mystical Powers of Lakhdata Peer Nahan

,