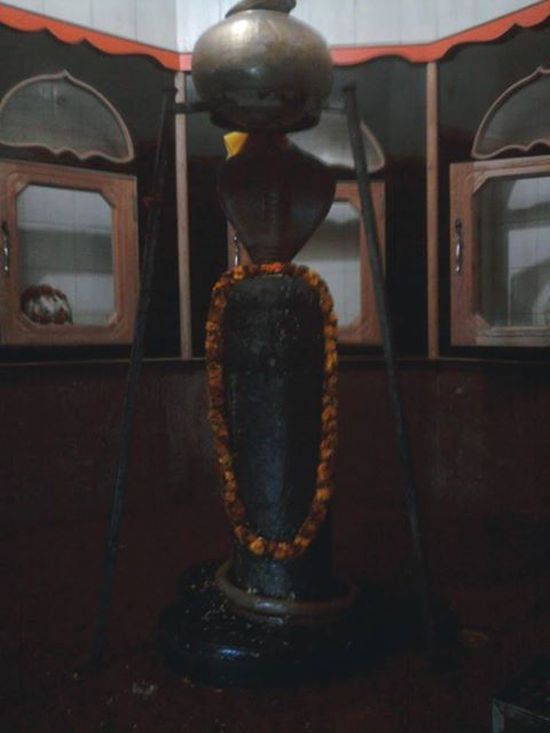 It's been five months in a row and I am staying in my parents' home in Nahan. Enjoying home food, relaxing environment and a carefree life. Most of my friends find my freelance writing career envious and I totally understand them. I love my gypsie lifestyle and the hippie traits keep me moving from one place to another. Staying in my hometown gives me an opportunity to understand my roots better and I do not miss a chance to enjoy road trips in and around Nahan. Recently, I visited the famous Paudiwala temple with my brother. It is a kind of place where I want to stay all my life if internet works and my paychecks keep rolling.
Located at a distance of just 6 kilometers from Nahan, towards Chandigarh, Paudiwala is a place of its own kind. I have heard that each day on Shivratri, the size of the Shivling increases by the size of a rice. We took our car till the gate of the temple and then we decided to take a walk. As the road is not good for drivers like me.
We reached the temple in ten minutes and it was a memorable walk in the jungle. The temple was a simple and serene place where we spent some time talking to the Pujari Ji (Ishwar Giri), who was a cool Baba with dreadlocks, impressive! He told us about the historic past of the temple and how the place was attached with stories related to Lord Shiva and Ravana (the dude from Mahabharata).
[sliderly id=1864 type=slideshow width=500 height=400]
According to the baba we met there, Ravan was a true devotee of Lord Shiva and he wanted to be immortal. Once he did some meditation and prayers to please Bhole Nath ji and when the Lord was impressed he asked for immortality. To grant him the wish, Lord Shiva asked him to build five stairs to heaven in a single day. It was a challenge accepted by Ravana and he built the first one in Haridwar which is called the, "Har ki Pauri". Second one was built in "Pauriwala", the third one was built in Chureshwar Mahadev and fourth in Kinner Kailash. After building the fourth Swarg ki Seedhi, Ravana felt sleepy and he took a nap. When he woke up, it was already another day. So he could never be immortal.
It was indeed an interesting story. Later, we had tea with the baba and his followers. While sipping the tea he told us another story which is ancient. Long ago, there was a saint named as Rishi Mrikandu. He was a devotee of Lord Vishnu and he did Tapasya to please the Lord. As a result of which Lord Vishnu gave him a vardaan that he will soon have a son, but there was a condition that the son will only live up to twelve years. Rishi Mrikandu was soon blessed with a son whom he named Markandya.
Markandya became a rishi, just like his father, and he began to do tapasya and chanting Maha Mritunjaye to attain immortality. When he turned twelve, the Yamraaj came to take him, but it is said that he hugged the Shiva Ling of the temple which is located near Nahan in Boholeo. Looking at this, Lord Shiva came and he gave immortality to Rishi Markandya and it was the time when the river Markandya came into being. Since then, Lord Shiva imbibed himself in the Shiva Ling of the Paudiwala Temple.
Later, Baba Ishwar Giri ji told us that he has been in the Paudiwala temple since decades and he has seen many babas taking Samadhi here. Some of the babas went up in the air with the powers of tapasya. There is a sewak from Nahan, Madu, who, according to the baba is a true devotee. He comes to the temple quiet often to help the babas and the followers in daily chores.
I have seen many temples in Himachal Valley, and I was so amazed to see the Paudiwala temple because of its rich history and ancient past equally allured me. Each year, several pilgrims visit the temple to show their love and devotion to Bhagwan Shiv Shankar. On Shivratri, people from Nahan and nearby places come and make a visit. It is said that wishes come true here, some magical powers this place has.
GD Star Rating
loading...
The history and mystical powers of the ancient Paudiwala Temple, Nahan

,