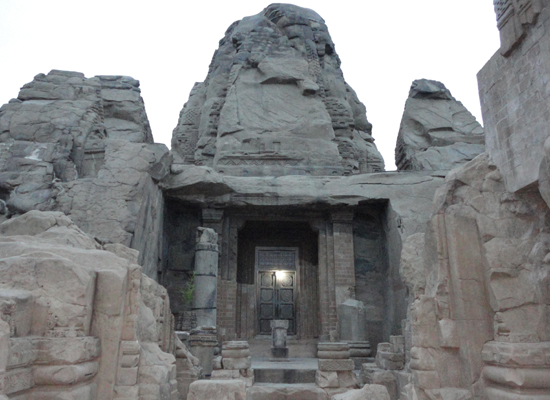 Home to over 2000 temples, numerous monasteries and several pilgrimage places, Himachal Pradesh prides itself on having one of the four rock-cut temples in the country- The Masroor rock-cut temple.
The famous Masroor temple in Himachal Pradesh lies nearly 32 km from Kangra and 47 Km from Dharamshala. This holy shrine is situated on Nagrota Surian link road and is famous for its remarkable single-rock-cut monolithic temples. The Masroor temple is believed to be built between the 6th and the 8th century A.D. This beautiful rock temple is comparable to the country's other great monolithic temples of Mahabalipuram in Tamil Nadu, Kailashnath Temple of Ellora in Maharashtra and Dhamnar caves in Rajasthan.
The Masroor temple complex features a group of 15 Indo Aryan style monolithic rock cut shrines. The main shrine, called the Thakurdwara, contains three richly carved black stone images of Ram, Lakshman and Sita.
It is believed that the temple was built by an ardent Lord Shiva devotee, Raja Yashoverdhan. The presence of the figure of Lord Shiva in the doorway also gives a strong indication that the temple was originally dedicated to Mahadeva. This historical temple is partially in ruins because of a massive earthquake in 1905.
The temple complex is located on a hilltop at a height of 2500 feet from the mean sea level and has an adjoining large and rectangular tank which is nearly 50 m in length and remains filled with water throughout the year. From the temple, one can get a breathtaking view of snowy Dhauladhar ranges.
Situated in the heart of Kangra district, the temple is easily approachable from all parts of the state. For broad gauge trains the nearest railway station is Pathankot, while Nagrota Bagwan station is for a narrow gauge train. An airport in Gaggal connects this place to New Delhi and Chandigarh. Public and private transport services are also available from the aforementioned cities.
For the stay in Kangra valley, tourists can choose from many budget and mid-range hotels and guest houses. The temple can be visited all the year around but the best time to visit is between March and October.
There are numerous Hindu temples in Himachal Pradesh that are worth appreciation. The Shikhar style Masroor temple is one such temple. Like Naina Devi and Chamunda Devi temples in Himachal Pradesh, Masroor and various other Hindu temples in Himachal are considered the most beautiful temples of India.
GD Star Rating
loading...
Masroor Rock-cut Temple in Himachal Valley

,