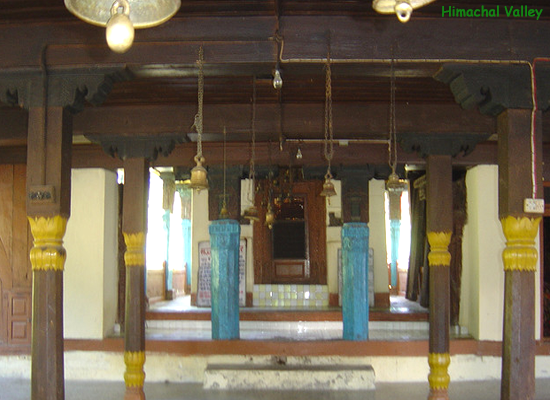 A small beautiful grassy meadow in the Chamba valley is Khajjiar. Due to its excellent beauty Khajjiar is popular in the name of Mini Switzerland of Himachal Pradesh. Khajjiar is among those few places having 3 eco systems: pasture, Lake and forest right at one place.
Khajjiar is also known for its Khajinag temple which is constructed in the 12th century period. This temple is having a golden dome along with spire. The town of Khajjiar got its name after Khajinag temple. This temple is also popular as "Golden Devi" temple. You will get to see a sanctum of wood with beautiful carvings in this temple.
Here in this temple you will see paintings and images of Pandavas and the defeated Kauravas. The temple attracts thousands of people from distant places. It is dedicated to serpent god. The architecture of this temple is in Pahari style and Nagdev is worshipped in this temple. The idol of Nagdev is formed from stone carvings and looks like human form.
The best time to visit Khajjiar is summer.
During this period the temperature ranges 12° C to 25° C. The period from April to October is best for visiting Khajjiar. Devotees from distant places visit this famous temple for offering puja to Nag Devta.
This place is very well connected with Dalhousie and Chamba at both ends. Besides Khajinag Temple the other places of attraction in Khajjiar is Khajjiar Lake and Golf Course. The lake is beautiful and surrounded with great scenic view and a lush green floating island enhances its beauty. Huge nine-hole golf course is one of the major attractions in Khajjiar.
People who are interested to enjoy a peaceful environment far away from the daily hectic life must visit this destination and Khajinag temple in Himachal. Khajjiar, the beautiful hill station of Chamba is 24 kms away from Dalhousie. This place is 6,500 feet up from the sea level in foot hills of Dhauladhar ranges of western Himalayas.
Excellent hotels are available at Khajjiar for accommodation facility of the tourists visiting this town from distant places for a pleasant stay.
GD Star Rating
loading...
Khajinag temple of Khajjiar-in Mini Switzerland of Himachal Pradesh

,