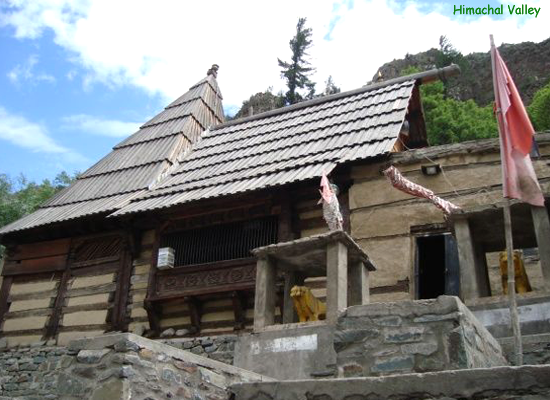 Tourist from distant places visit Lahaul Valley to enjoy the panoramic view of the hills covered with white snow. But when they visit this place they prefer to explore the whole valley to know the culture of the people over there. The exploration remains incomplete if you dont visit the popular temples in Himachal and especially in Lahaul.
One of the famous temples of Lahaul is Mrikula Devi Temple. This temple is dedicated to goddess Kali. This temple is named after the name of the village. Earlier this village was called as Mrikula and later known as Margul or Marul. Markula Devi temple was constructed during the reign of Ajayvarman in Kashmir. But still there is no valid proof to establish this relationship.
This temple is made out of wood and constructed during 11th century. There is one story prevalent about this temple, based on which the priests over here believe that the Pandavas constructed this temple from a block of wood. The village of Markula is located in the Junction between Chander Bhaga and Miyar Nala.
After 1965 this village was again renamed as Udaipur. Raja Udai Singh took the initiative in developing this village into a prominent district of Lahaul. This village was earlier annexed by his father to add in Chamba state.
Tourists and devotees pay a visit to this village to take blessings of Ma Kali. There is no other place of attraction in this village. The top of the temple is covered with wooden shingles steep roof. It gives the look of a pyramid which is very similar to the Shikhara style of the temples located in the plain areas.
The artistic quality of work can be seen inside the temple. In the panels of the wall you will get to see scenes from the Mahabharata, Sunderkand, Ramayana, Yuddhakand, Lord Vishnu in 3 head incarnation, Samudramanthan and also Amritpaan. You will surely be impressed with the architectural work of the temple.
It is believed that those who offer prayers and puja's in this temple of Mrikula Devi, their wishes are answered by Devi and are fulfilled.
GD Star Rating
loading...
Visit Mrikula Devi Temple for blessings of Ma Kali

,