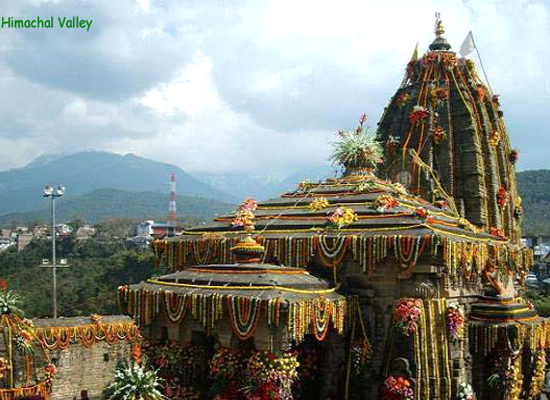 Baijnath is one of the popular small towns of the state of Himachal Pradesh located in western Himalayas Dhauladhar range. This town is 16 km away from Palampur in the district of Kangra in Himachal Pradesh. Here in Baijnath is located the famous temple of Baijnath.
This temple was constructed during the period of 13th century. The Temple of Baijnath is dedicated to lord Shiva in the form of Vaidyanath. Lord Vaidyanath is represented as 'the Lord of physicians'. Long back the town of Baijnath was popular in the name of Kiragrama. It lies on highway of Pathankot-Chakki-Manali in the mid of Mandi and Kangra. This town is situated near left bank of river Binwa.
This temple was constructed by two merchants of this town named Manyuka and Ahuka in 1204 AD. There are 2 long inscription which are present in the temple porch indicates the fact that earlier there was a beautiful temple of Lord Shiva long before this present temple was constructed.
This temple is truly very beautiful and a true example of medieval temple architecture of northern India which is popularly called as the Nagara style. You will get to see a Shivalinga in this temple in the form of Svayambhu having 5 projections.
Devotees from distant places visit this temple in Himachal. It attracts devotees in large number all through the year. Puja and Aarti are done every day. The festivals which are celebrated in this temple include Makara Sankranti, Vaisakha Sankranti, Maha Shivaratri, Shravana Mondays and many more are there.
A function at state level is conducted for long 5 days during the period of Mahashivratri. Some of the nearby religious places of attraction from this temple are complex of Mahakala temple, Mukutanath temple and Sidhanath temple. There are many other god images present in the Baijnath Temple.
Tourists who all are having interest in adventure sports can enjoy the same over here with paragliding in the Bir region of this town. Trekking can also be enjoyed. At present this temple of Baijnath is under protection from Archaeological Survey of India. A local board performs the responsibility of regular puja in this temple.
GD Star Rating
loading...
Baijnath Temple- An ancient temple from Himachal

,