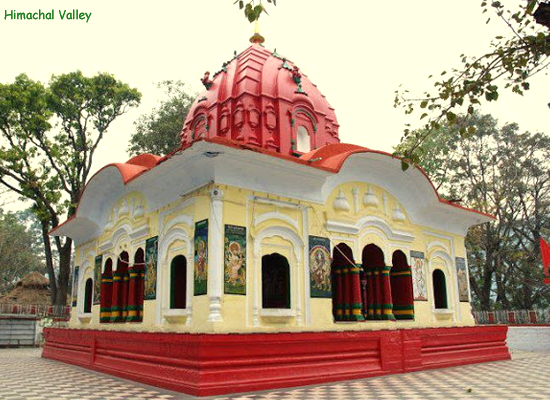 Right at the top of Tarna Hills of Mandi in Himachal Pradesh is located the famous temple of Tarna Devi. This temple is located in between dense trees and it is located at a height of 300 feet above the level of sea.
The presence of this divine temple at the top hill gives it a picturesque look and it attracts thousands of people to visit it. When you look down from the hill top of Tarna Hills you will get the feel that Ma Tarna is keeping an eye on the town of Mandi as you will get the complete view of the town from there.
There are two different ways via which you can reach this Temple. The first one is through stairs and the second is via motor able road. The road to reach the temple is stiff with dangerous blind curves. We can assure you that your heart will be filled with complete devotion to god once you reach this destination of Tarna Devi Temple.
This temple is also popular as Shyama Kali Temple. It is dedicated to Shyama Kali who is an incarnation of goddesses Durga. Paintings of goddesses are there on the walls of the temple. The inside area of the temple is elaborated with beautiful designs in Gold.
This temple was constructed way back in the 17th century period by then king of the region Raja Shyam Sen. He was one of the greatest devotee of Ma Kali. The idol which is present in the temple of ma kali is three faced.
Apart from this there is another idol which is of Mahishasuramardini. People pay visit to this temple for taking blessing of Shyama Kali from distant places.
Outside the temple you will get a small canteen where you can enjoy a refreshing cup of coffee or tea and then can start the journey back to base of Mandi town. It is believed that if you make prayers to Ma Kali with pious mind then wishes comes true. It is one of the prominent temples in Himachal.
Puja of Ma Kali is done every day by the priests of the temple. We will suggest you to attend the Aarti in the evening as the same is breathtaking.
GD Star Rating
loading...
Tarna Devi Temple- A holy destination in Mandi

,