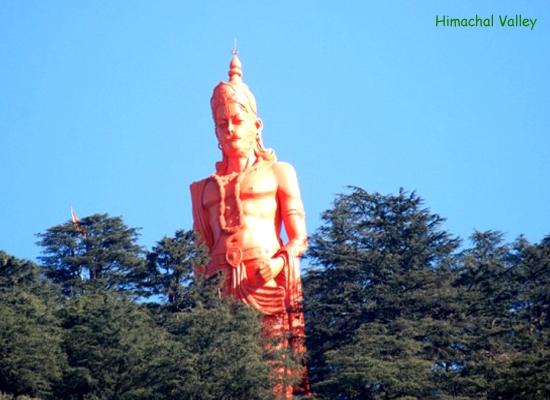 One of the ancient temples from Shimla is Jakhoo Temple. This temple is dedicated to Lord Hanuman and is located in the Jakhoo Hill. It is situated at a distance of 2.5 Km from the eastern side of "The Ridge of Shimla."
The temple is 8000 fts above the sea level. Being one of the popular temples in Himachal, devotees in large number visit this temple to take blessings from Lord Hanuman. We are sure you will get impressed with the panoramic view which you will get to see when you reach the top of Jakhoo Hill. Tourists visiting this place love to watch the Sunrise and Sunset from here.
Jakhoo Temple is a famous temple of Himachal and it is believed that all wish of a person gets fulfilled after taking blessings from Lord Hanuman. When we go through the mythological stories of Ramayana, we get to learn that this temple is located at a place where Lord Hanuman stopped while making the search of Sanjivini plant for saving life of Lakshana who was badly hurt in the battle field.
Another story is also there which clarifies that this place is the one where Lord Hanuman's sandal fell. Renovation work is done on regular basis to protect this ancient temple. To reach this popular vintage point of Shimla, there are Taxi services from the government of Himachal Pradesh. Also there is a Ropeway, which is under construction.
A huge idol of Lord Hanuman is placed in this temple premises which is 108 feet long and acts as one of the biggest attraction for the tourists who visit this place. Visitors need to remove the shoes before entering the temple.
There is one huge bell in this temple which visitors ring for good luck in life. It is said that the famous sage Yaku, got this temple constructed in the remembrance of Lord Hanuman. Besides devotees people of all age group visit this place when then plan to visit the destination of Shimla. The festival of Dussehra is celebrated every year in this temple.
While visiting Shimla, it is must for every tourist to visit this temple to take blessings of Lord Hanuman. Nearby this area you will get quality eateries where you can relax and enjoy food after paying visit to Jakhoo Temple.
GD Star Rating
loading...
Jakhoo Temple- An ancient temple from Shimla

,