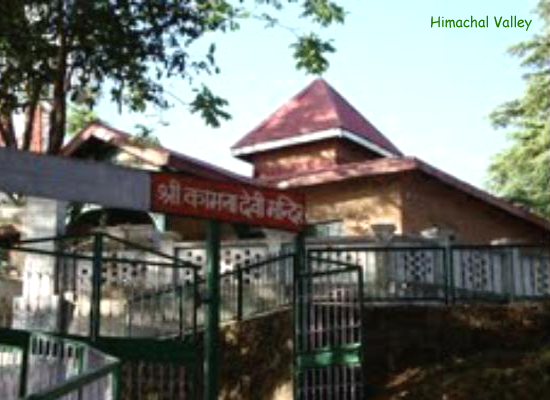 Shimla is a popular tourist destination in India which is visited by tourists in large number every year. People from distant places visit the Kamana Devi Temple of Shimla to take the blessings of goddess Kali. It is located at a distance of 5 KM from the main city.
If you want to reach the temple from Boileauganj, then it will take not more than 15 mins to reach the temple via walking. The temple region is surrounded with deodar and pine forests and the view is really spectacular.
It is strongly believed that the devotee who climbs the stiff path to reach the temple for blessings of Ma Kamana, his or her wish is always fulfilled. It is one of the popular temples in Himachal. Besides the popularity of this temple, tourist visits this place in large number as this area is an excellent spot for picnic.
From this spot you can get a view of Jutogh, Shimla, Tara Devi and Summer Hill. This temple is also popular in the name of Creeda Devi Temple. It lies on Shimla-Bilaspur road. Being a famous temple of Himachal, it remains open round the clock for the devotees. The other nearby destination from this temple which tourists can visit includes Mahunag Temple, Chadwick Falls, Tara Devi Temple and Kufri.
This place is quite and calm, tourist can enjoy a peaceful day while paying a visit to Kamana Devi Temple. Touring Shimla remains incomplete if this temple is not visited. So it is must for every tourist to visit this holy pilgrimage center in Shimla. Besides the temple the natural beauty of this place attract tourists.
If you are fond of trekking then you can enjoy trekking as this region is an ideal base for it. Nature lovers as well as bird watchers pay visit to this place in huge number.
During seasonal time Shimla becomes a prime spot for visit for many tourists. You can plan a day picnic with your family or friends here and enjoy the scenic view and visit the Kamana Devi Temple area in one go. One tip I would like to give you is, beware of monkeys. Do not feed them with food or snacks or litter the garbage here and there.
GD Star Rating
loading...
Divine blessings of Ma Kamana Devi in Shimla

,