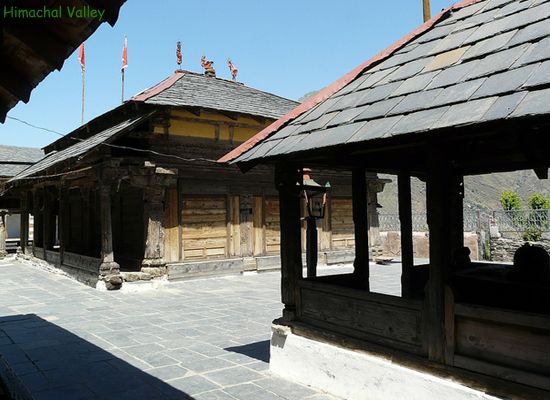 One of the famous temples of Bharmour, Chamba region in the state of Himachal Pradesh is Shakti Devi Temple. This temple of Devi Shakti was constructed during the same period when the Lakshana Temple was constructed. It is considered as one of the good specimens of the Shrines of hills. People from distant places visit this temple in Himachal to take the blessings of Maa Shakti.
When you visit this temple you will get to see an outer doorway which is one of the recent additions made in this temple. If you observe the ornamental decoration in the inner doorway you will get resemblance with decoration of Lakshana Temple. You will get impressed with carved wood work which you will see in this temple.
It is situated 6,000 feet above the sea level. Shakti Devi Temple is located at a distance of 40 km away from the center of Bharmour and almost 45-km away from Chamba Via road. The residents of the village of Bharmour are mostly Gaddi people. The Gaddi people are basically the shepherds who earn their living from rearing of goats and sheep in the hilly areas.
Just over the entrance of temple a beautiful row of flying figures are present. Four figures each on both sides and two in the center with a crown in hand are present. There are 6 more figures which are accompanied by female characters. Beneath these figures are thirteen figures which are cross- legged and nine of them are Nava grahas.
As per archaeological experts the other four figures, two each and two ends acts as guardian to four regions. Being one of the famous temples of Bharmour, this place is an important pilgrimage center. The other idol figures present inside this temple includes six-faced Karttikeya, four-armed Brahma, three-faced Vishnu, Shiva and Durga.
This temple is also called as "temple of Chhatrari" as is one of the holiest one located in Himachal. Influence of post Gupta period can be noticed in the sculptures of this temple. Ceder columns in this temple are decorated with foliage motifs and pot.
The main Brass image of Shakti Devi is of 8th century period adorned with beautiful jewels and a stunning crown.
GD Star Rating
loading...
Shakti Temple Chhatrari: A Holy destination in Himachal

,