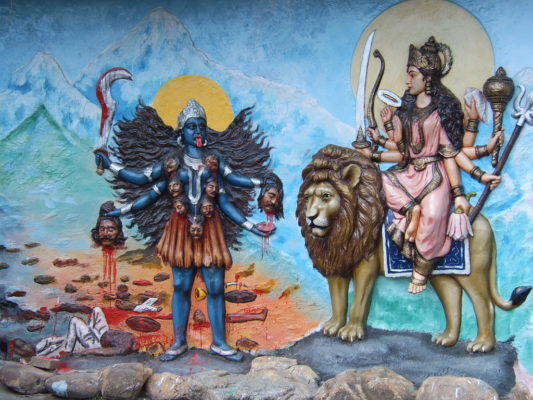 The Chamunda Devi temple is a famous tourist destination situated at a height of one thousand meters above sea level. It is one of the famous tourist destinations of the world. The temple is located on the banks of Ban Ganga, overlooking the Dhauladhar ranges. Every year a lot number of tourists travel to the holistic destination of Himachal Pradesh to get the blessings of the Goddess Chamunda.
Like many other temples in Himachal, the Chamunda Devi Temple also has a legend attached to it. It is about two demons Shumbh and Nishumbh. These were the two very notorious and arrogant demon kings. They tried to harass Ambika which turned out to be a battle for the demons. There was the emergence of Chamunda from the brow of Chandika and Ambika was assigned with the task of killing the demons. The two demons were killed and Mata Ambika named the city as Chamunda.
Like many other temples in Himachal this temple is a holy place for the Hindus. It is located in the Kangra valley of Himachal Pradesh. The Chamunda Devi Mandir is located at a distance of ten kilometers from the Baner river bank. This temple dates back to the early 16th century. This temple is dedicated to Chamunda Devi who is a form of Durga and Shakti.
Many other temples in Himachal are noted for their exquisite architecture. There is nothing so awe inspiring about the architecture of the temple, but there is the divine aura that binds devotees with a special appeal. The main image is visible from the entrance like other temples in Himachal. The main image or shrine is of Lord Bhairav and the Lord Hanuman at its sides. These are the guards and the Goddess is draped in rich clothes.
Like other temples in Himachal, there are Aartis at intervals. In this temple Chandi is recited with a devoted heart. In the corner of the temple, there are small footsteps of the Goddess in stone. There is a marble staircase that goes to the temple of Lord Shiva. Here the Shiva Lingam is placed.
GD Star Rating
loading...
Chamunda Devi Temple, a famous tourist destination

,