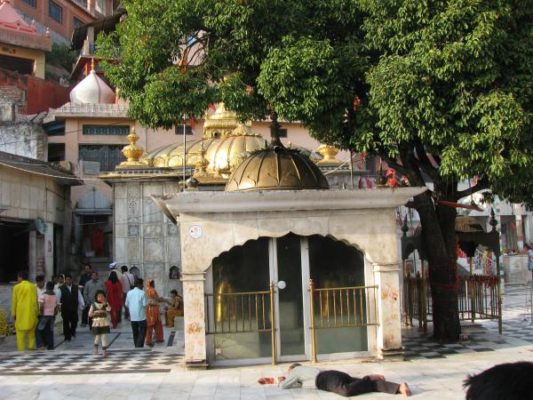 The Jwala Devi Temple is located 34 kilometers south of Kangra in Himachal Pradesh. It lies 56 kilometers from Dharamshala and it is easily reachable by buses from the place. For a very convenient journey, one can reach the place in private taxis that are available all over the place. Like many other temples in Himachal this place is also a major Shakti Peetha.
The Goddess is said to be presiding in flames and she is also referred to as the Flaming Goddess. Like many other temples in Himachal this temple is also situated beside a cliff and it is built on a wooden platform. The style is that of the Indo Sikh architecture. The structure of the temple is very simple and the religious ambience around the temple makes it look very divine.
The spire and the dome are covered with gold and the main door to the shrine is made of silver. There is a brass bell in front of the shrine like in the major temples in Himachal. This bell was presented by the King of Nepal.
Like many other temples in Himachal have a history that dates back to the past, this temple has a past too. People often try to find out about the burning flames representing the temple. The flames are ablaze due to some combustible gas.
The temple is also known as the Jwala Devi Mandir. In this temple, unlike in other temples in Himachal, there is no idol as the Goddess seems to symbolize the flames. This temple shrine depicts nine flames in the name of nine Goddesses.
There is a pit inside the shrine where you can see the fire burning and flames ablaze from that. The worship or aartis that are held in many temples in Himachal are the main attractions. The Goddess is offered thickened milk of Rabri and offerings are also made to Gorakh Dibbi and Chaturbhuj.
Blue flames come out of the fissures of ancient rock in the temple. Like many other temples in Himachal there are many stories associated with this Jwala Devi temple in Himachal.
GD Star Rating
loading...
The Jwala Devi Temple in Kangra near Dharmashala

,