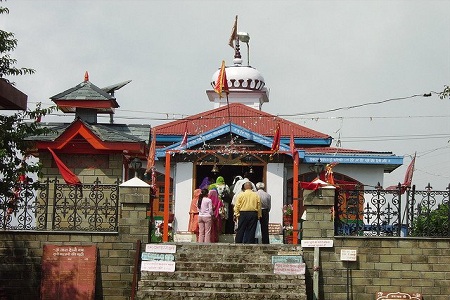 Tara Devi temple in Simla is a very famous attraction for tourists. It is situated at a distance of around eleven kilometers from Simla. This can be visited while traveling on the national highway of Kalka-Simla.
The Tara Devi temple is located on Simla hill and the lush green surroundings give the temple a very tranquil and peaceful atmosphere. You can visit the temple to check on the breath taking views of the lush green countryside.
At the backdrop, the lofty Himalayas and the fresh and clean air works great wonders and makes the holidays worth living. Like many other ancient temples in Himachal, the temple's origin can be traced back to around 250 years back. Goddess Tara was brought here all the way from Himachal Pradesh and West Bengal.
When we visited Simla we went on a visit to the Tara Devi temple and all other temples in Himachal Pradesh. It is said, a king from the Sen dynasty had visited this temple after many years. He had brought a gold locket with him in which there was an idol of the deity in gold. He wore this locket on his upper arm.
The idol, we had come to learn later was encased in that locket for many more generations to come. Raja Bhupendra Sen met with an unusual incident while fighting in the jungle. He saw a vision of Goddess Tara along with the Hanuman. The Hanuman wanted the Goddess to be present along with the locket. Like other temples in Himachal this temple also carries a myth of its own.
Immediately, the Maharaja dedicated a huge piece of land to be donated to the Goddess Tara. While other temples in Himachal were being built, this temple was built in due time and a wooden idol of the Goddess was built which was worshipped by the people.
Raja Balbir Sen had a vision where the Goddess wished that the temple should be made on top of the hills knows as the Tarav Parvat. Like many other temples in Himachal the Maharaja had the temple built on top of the temple in Astadhatu which is a rare combination of eight metals.
It was also installed in great fashion by taking out a huge procession and the elephant was carried on top of an elephant called the Shankar. Even today the temple stands in full grandeur on the hilltop amidst the other temples in Himachal.
The Tara Devi Temple is one of the best temples in Himachal while you are in Simla. To reach the temple you must reach the Tarav Parvat which is near to the Kalka Simla highway. On your way you can find lush green pine trees.
The temple is flocked by many devotees of Tara Devi who come here to receive her grace and blessings. This is also one of the most visited temples in Himachal Pradesh.
GD Star Rating
loading...
Tara Devi Temple, Simla, a must-visit place for pligrims

,