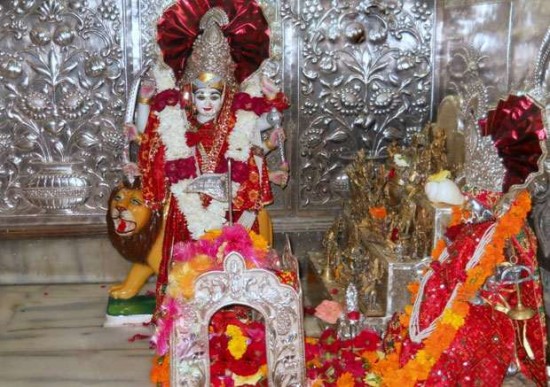 Mata Bala Sundari Devi is considered to be the Bal Roop or younger version of Mata Vaishno Devi. Among the many temples in Himachal Pradesh, this temple is very famous. This is located 24 kilometers, south west of Nahan. It is located at a height of 430 meters on a hill above the village in Gorakhpur. The temple like many other temples in Himachal Valley has a wonderful scenic beauty all around and it attracts many visitors all through the year.
The Mata in the temple has three types of presence. One is Mata Lalita Devi; the other is Mata Bala Sundari Devi and the third, Mata Tribhavini Devi. The temple of Mata Lalita Devi is located 4 kilometers away from the Trilokpur Gaon to the east. The temple like other temples in Himachal is located on a hill. The other temple or Mata Tribhavini Devi's temple is located towards the North West while Mata Balasundari Devi's temple is in the middle of these two temples.
You can reach the temple by road from Delhi like it is in the case of many temples of Himachal. We took this track from Delhi to Ambala which is 200 km, from Ambala to Kala Amb, 53 km and from Kala Amb to the temple which is 11 km. From Chandigarh to Kala Amb it is 72 km. Kala Amb is a busy industrial area in Himachal. It is near to Sirmaur and just 11 kms from the city center. You reach the Maa Kali Temple which goes down to the road that is called Pauri wala. This road goes left to the temple of Mata Balasundari Temple.
There is a vast gate at the entrance of the temple like it is for all other temples of Himachal. It is around one kilometer from the Shaktipeeth. The other temples were there on our way and one of them was the Dhyanu Bhakt Temple. You can park your car on the left when there is low rush or you can drive into the road and on the left find a proper place for parking. We started working around one hundred steps.
The height was so steep that it could not be walked easily. This led to the Western gates of the temple. The other opened on the Eastern gate, a gate which is open on Festival days like the Navaratras. We collected the Prasad on our way. As we entered through the main western gate, we could see the temple in front like in the case of many temples of Himachal Pradesh.
Bala Sundri Mata Temple is one of the most important religious places in Himachal Pradesh. Pilgrims come to take the blessings from Mata Bala Sundri and it is believed that this temple has some supernatural powers and people feel blessed after having the glance of the Goddess.
GD Star Rating
loading...
Bala Sundari Mata Temple, the glory of Himachal

,