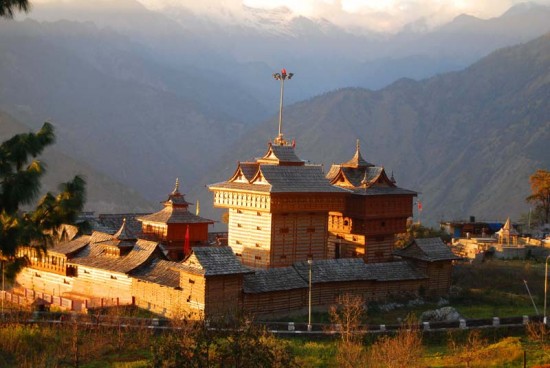 The Bhimkali temple which is in Shimla is one of the best looking temples in Himachal Pradesh because of its ornate architecture. We had been temple hopping and visiting temples in Himachal that are famous and known for their mythological background and also for their architectural splendor. This temple is one of the Shakti Peeths.
The unique matter about this temple is that it is a mix and match of both the Hindu and the Buddhist structures. The temple is built of wood and it is perhaps the best in architectural intricacies among the temples in Himachal. The Shimla royal palaces are located very near to the temple. There is typical wood work in Kinnauri style and magnificent doorways that speak of its glorious past. The place is steeped in serenity and solitude all over.
Sarahan, the summer capital of Bushahr kingdom is famous for the Bhimakali temple which is one of the most prestigious of all temples in Himachal. This temple is built from layers of stone and also made of timber so that it is not affected by natural consequences like earthquakes. Bhimakali is the Himachal version of Goddess Kali. There are ornate towers on the temple and the deity stands under a very beautiful silver filigreed cover.
The temples in Himachal region are noted for the tourist attraction there. The temple has a wonderful story behind it. The temple was dedicated to the famous Shakti or powerful Goddess who killed all the demons that infested the Himalayas once upon a time. Thus, Bhimkali, the great powerful goddess came to be worshiped there.
There is some story or the other behind the temples in Himachal and these stories are really intriguing. In 1905 a very powerful earthquake had struck the place and the temple had tilted to one side but it got back to its former position with another tremor. There is myth about a secret tunnel underneath the temple that was used by the priests from the nearby village. Another temple has been built by the side of the main temple that has a 200 year old shrine of Bhimakali as the deity of that temple.
Around the temple there is lush green meadow and flora and fauna around making it a serene and quiet place.
GD Star Rating
loading...
Bhima kali Temple, one of the spiritual Shakti Peeths

,