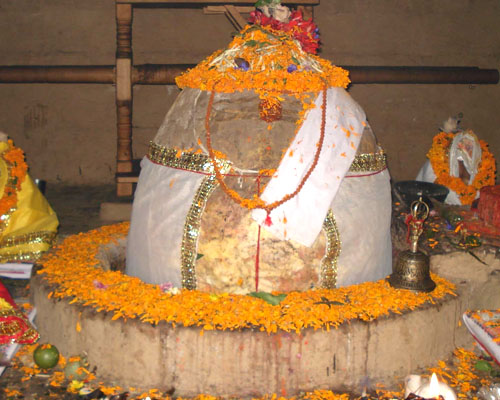 We were out visiting the temples in Himachal and this time we headed for the Bijli Mahadev Temple which is located at an altitude of 2460 meters. The temple is situated fourteen kilometers, south east of Kullu. We had taken a 3 km trek from Mansari village. This is an ancient Shiv Temple which has a wonderful myth associating it as it is in the cases of all temples in Himachal.
Like many other temples in Himachal, the Bijli Mahadev temple has a religious hearsay attached to it. While we travelled visiting all temples in Himachal region, we picked up such stories and had to believe in them as Faith plays a great role for devotees all over the world.
The story goes like this. The Shiva Lingam shrine is shattered once in a blue moon while lightening strikes the temple and then the Pujari of the temple puts the Shivalingam all together with butter and satoo and it is restored once again. We got to hear the story from the local people and also gained information about why the deity is called Bijli Maharaj. Bijli means lightening in the local language.
The temple region has a panoramic view of the Manikaran and Kulu valleys. This is a favorite spot for all visitors who come to visit the temples in Himachal. The Palani falls lies at a distance of six kilometers to the north which is an exotic place to visit. There is a great rush to this temple during Shivratri every year.
This temple, like many other temples in Himachal is a Kash type temple with a Shiva Lingam as its main shrine. The temple has a meadow all around it and it is fourteen kilometers from Kullu. We completed a trek of three kilometers to the temple and enjoyed the natural surroundings around.
First, you have to reach Kullu and thereby board a bus to the Bijli Mahadev stand to the village called Chansari. You can also book a cab and reach the place or trek on your way to the temple.
From both Kulu town and Manali town it is a three kilometers trek to the temple. It was, wonderful, our trip to Himachal Pradesh while paying visit to the great temples in Himachal on our trek.
GD Star Rating
loading...
Bijli Mahadev Temple: Breathtaking natural splendor and amazing history

,