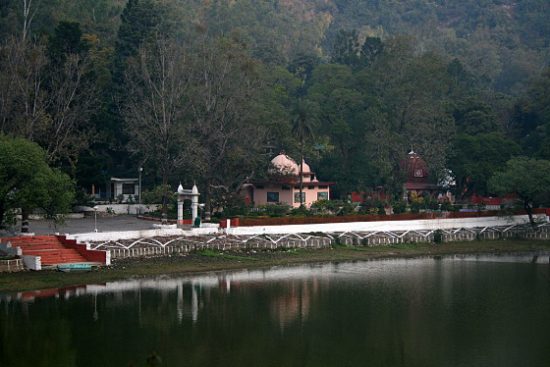 We were out looking to visit the temples in Himachal one by one, on our Himachal Pradesh trek and tour. We came across the Renuka Temple and the Parshuram Taal which has a mythological significance. The Parshuram Taal or the Lake named after the son of Renuka Devi is at the base of the Renuka Mata temple. It is perhaps that the son had an eternal desire to spend his time at the feet of his mother. Whatever the story is, we found all temples in Himachal Pradesh have stories associated with them that make the visit to these temples in Himachal, all the more intriguing and interesting.
A fair is held at the banks of the Parshuram Taal that calls in multitudes of visitors every year. The temple was said to have been built in a very short time unlike the other temples in Himachal. Legends tell us that Sahasarjuna who was evil had killed the sage Jamadagni and had tried to abduct wife Renuka who jumped into the lake to save herself. It was the Gods that restored her to life again. The bank has rows of temples and we took boat rides that are available on hire.
Renuka Temple is the place of tourist interest in the Sirmour district of Himachal Pradesh. The place is forty kilometers away from Nahan and it is linked with motorable roads. The lake there is a great attraction for tourists for boating. The lake is oval shaped and it has a circumference of 2.4 kilometers. The Parshuram Lake close by is shaped like a human figure. At the end of this lake there are palm trees shooting into the sky which are good as picnic grounds. The lake is visited by crores of people during the Kartik Ekadashi. The villagers come here from distant places and stay for two to three days. Kirtans are held along with over night festivities. Such festivities are a part and parcel of many temples in Himachal. There are great arrays of activities that are held here. The brass idol of the Parshurama is brought from Jammu in a silver palanquin. A lot of prophesying and foretelling goes on and this is a part of the fair program.
We were lucky to get A/C vehicles at an affordable pricing. The A/C hotel rooms were available on a twin sharing arrangement and also a basic medical support. Drivers and guides were also available as we went visiting temples in Himachal. The non alcoholic drinks and food was also provided. We stayed at the place overnight. Gazing at the Lake Renuka was a wonderful experience and we got ourselves treated to an awesome breakfast that made our visits to the temples in Himachal an exhilarating experience.
GD Star Rating
loading...
Renuka Mata Temple a tranquil place of retreat

,