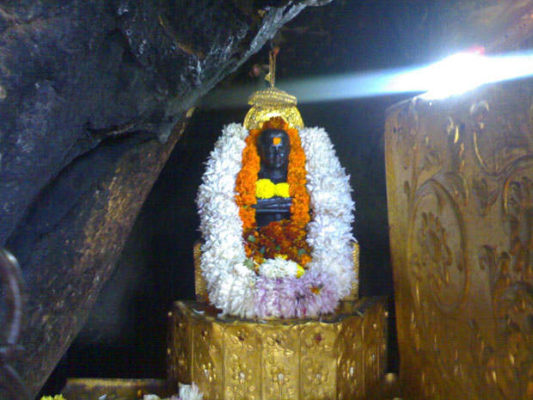 While we were out visiting temples in Himachal Pradesh we had a mind to visit the much-talked-of Baba Balak Nath temple in the Dhaulagiri Hills in Hamirpur. It was a pleasant rest on our way while trekking and also an opportunity to earn blessings by our visit to the temple. This is an important pilgrimage point for all travelling across visiting temples in Himachal Pradesh. This is a notable temple among all temples in Himachal as this is a cave temple.
The temple is situated on the borders of Hamirpur and Bilaspur and the place is well connected from all sides by roads. Pilgrims visit the place continuously during the Navaratras for Baba ji blessings. The Government arranges for the stay of people while they come to visit temples in Himachal and also takes care of water, essential services and toilet services for them. There is a rope way to Shah Talai which is an added attraction for all tourists to these temples in Himachal.
Baba Balak Nath is said to have been incarnated from Lord Shiva. He was a powerful religious reformer during the Shakti Movement. He is worshiped as someone who worked for the well being of mankind. Millions of pilgrims visiting temples in Himachal visit this cave shrine, the place both from within India and also from abroad.
The devotees offer Rota which is sweet Indian bread to the deity. Goats are also offered to Babaji but not as sacrificial animals. They are fed and reared in the temple. Baba Balak Nath is also known as Kartikey. It is said that the Baba took a long journey from Gujarat his initial home and came to settle down here in Mata Ratno, in the Deotsidh cave.
The women are not allowed to enter the temple and so we had to keep ourselves out. Bad Luck! Five kilometers from the temple there is a place where religious fairs are held during Holi. Sunday is the day that is considered auspicious to pay a visit to the temple. There is a swarm of visitors to the temple during that time.
We availed of the hotel packages that took us to the place in A/C vehicles visiting temples in Himachal. You can choose among cars, mini buses and jeeps. There are arrangements for twin sharing hotel rooms and also guides, drivers and availability of medical support. Food is vegetarian and non alcoholic drinks.
The temple can be reached by airway. The nearest Airpot is Chandigarh which is a hundred and twenty kilometers from Deot Sidh. Una which is fifty kilometers from Deot Sidh is the nearest railway station. The place is also well connected by roads. It was a great spiritual experience for all of us while we travelled Himachal and also covered all important temples in Himachal that we had intended to visit.
GD Star Rating
loading...
Baba Balak Nath temple, a spiritual spot with a difference

,