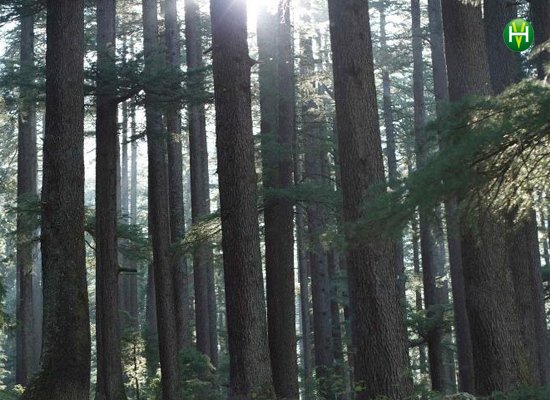 Himachal Pradesh has over 30 wildlife sanctuaries that are scattered over the region's varied mountains terrain, and are home to the exotic wild species of animals, mammals, birds, reptiles and aquatic fauna. The rich and varied topography of Himachal Pradesh makes it a natural habitat for many birds and animals species.
Located at a walking distance (about 2 km) from Manali town in the Kullu district, Manali wildlife sanctuary is a beautiful and amazing natural heaven for faunal species. Established in 1954, the sanctuary lies at an altitude of 2,273-5,173 m and occupies a very small area of 3,180 hectares. Even though the area is small still a wide variety of wild species, ranging from rare to endangered to common species of animals, mammals, reptiles and birds, can be spotted in this small wildlife sanctuary.
Fauna
Manali wildlife sanctuary is a natural habitat to Himalayan black bear, Himalayan palm civet, Himalayan ibex, Himalayan yellow throated marten, Himalayan tahr, Kashmir flying squirrel, barking deer, musk deer, Asiatic black bear, brown bear, flying fox, goral, Indian hare, snow leopard, serow, stripped hyena, jungle cat, and the list goes on.
Among birds, the Kolkass pheasant, western tragopan, snow pigeon, chakor, Himalayan monal, tree creepers, bar throated minla, rufous bellied niltava, kingfisher, green backed tit, snow partridge and Himalayan snowcock can be spotted in the Manali wildlife sanctuary.
Flora
The sanctuary is also a home to walnut, deodar, kail, robinia, horse chestnut, poplar and maple trees. Below the tree line in the sanctuary, the area is covered with the lush green dense forests of oak and conifers, while at higher altitudes the rhododendrons and junipers dominate the area.
In addition to this, Manali wildlife sanctuary offers adventure enthusiasts a chance to enjoy nature trails, trekking, camping and bird watching. Walking on various trekking routes that pass through the sanctuary with your loved one will definitely make your trip in Manali unforgettable.
During your travel in Himachal, visiting the state wildlife sanctuaries and parks and interacting with exotic wild species is a must if you are a wildlife and nature lover. Your visit in Manali to explore the valley and its surrounding areas is considered as incomplete if you don't visit Manali Wildlife sanctuary during your holiday in Himachal. This wildlife sanctuary in Manali can make your dream come true, if you are looking for the right destination to explore rich flora and fauna while enjoying tourist places in Himachal Pradesh.
GD Star Rating
loading...
Manali Wildlife Sanctuary: A Must Visit Attraction

,