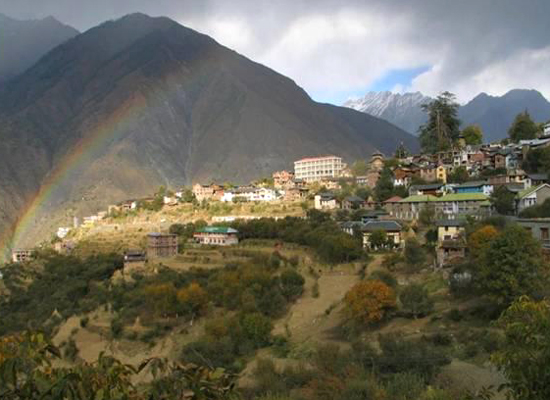 If you have just got married and wish to spend the new love-filled moments of your life in a quiet and picturesque location, Bharmour could be just what you're looking for. It is a beautiful and peaceful hill station in the Indian state of Himachal Pradesh that is nestled in the lap of mighty Himalayas.
Located at a distance of 62 km from Chamba, Bharmour is a quaint little town surrounded by high lush green mountains. Bharmour was nown as Brahmpur in the 6th century and was the original capital of Chamba district till AD 920.
Bharmour, at an altitude of 7000 feet in the Budhil valley, is known for its almost untouched virgin beauty and for its treasure of ancient temples. Some of its temples are believed to be built in the 10th century. While exploring its serene surroundings and amazingly calm environs, you get complete time of romance with your partner here in lap of Mother Nature.
Bharmour is dominated by the Gaddi tribes and the whole country around the town is supposed to belong to lord Shiva, earning it a reputation of Shiva Bhumi, abode of Lord Shiva. Chaurasi Temples and Manimahesh are the main tourist attractions of Bharmour.
Chaurasi Temples, which are named after the 84 Siddhas who are believed to have chosen this place for meditation over thousand years ago, stand on a level area in the heart of Bharmour. There is a Lord Shiva temple, called Manimahesh, in the temple complex. This Shikhara style temple has a Shivalingam and a life-size bronze statue of Nandi bull which stands outside facing the temple.
The other two oldest temples in the Chaurasi Temples complex are those of Lakshna Devi and Ganesh. Also, there is a small water body in the corner of the complex, called Ardh Ganga. Devotees take dip in the holy waters of Ardh Ganga. A little above the Chaurasi Temples is situated the hill temple of Bharmani Devi. Visitors can explore the thick green forests while walking on trek on the hill to the Bharmani Devi temple.
Owing to its picturesque beauty and calm & clean environment, Himachal Pradesh is considered the one of the most charming honeymoon places in India. Like Himachal Pradesh, there are numerous honeymoon places in India, namely that offer suitable locations and environ for newly married couples. Like Himachal Pradesh, there are several other honeymoon places in India, namely Darjeeling, Srinagar, Nainital etc. that are situated amidst calm hills outnumbered with green forests and streams and rivers that make a perfect setting to start a new life.
GD Star Rating
loading...
Bharmour- The Perfect Place to Relax and Romance

,