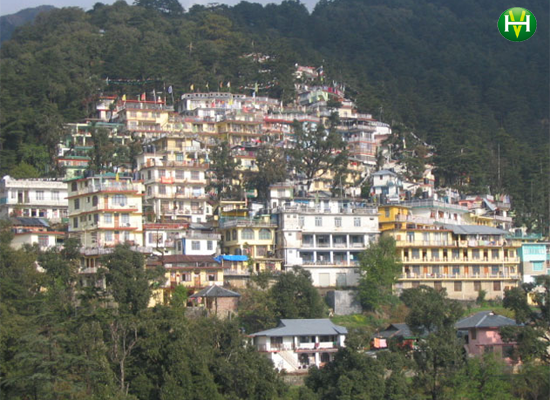 If you are looking for a romantic location to get away and relax with your bride or planning to celebrate your anniversary or some other special occasion in the beautiful verdant hills, Himachal Pradesh is the perfect romantic honeymoon destination.
The mountainous state of Himachal Pradesh in Northern India is home to numerous hill stations that are extremely popular with those seeking peace and tranquility. Owing to its fascinating natural serenity, lush green hills, snow-clad peaks and flower bedecked meadows, Himachal has always been witnessing a huge inflow of newly-weds, honeymooners and those who want to rekindle their romance after many years of marriage in most romantic way.
If you really wish to escape to a quiet destination where nothing can come between you and your spouse, no other place will be better than Dharamshala. Rightly called the Scotland of India, Dharamshala offers the spectacular views of the snow-laden Himalayas in the Dhauladhar snowline.
Perched on the high slopes of Kangra Valley, the amazing Dharamshala town is dotted with dense pine trees and Deodar forests, and numerous streams and cool healthy environ add to its exotic natural beauty.
This enchanting little hill station is also regarded as the pilgrimage destination for Tibetans, because the spiritual leader of the Tibetan community Dalai Lama lives in McLeod Ganj, a town within Dharamshala. The place is thronged by the Dalai Lama followers all around the year and is known as the land of the age-old monasteries and Buddhist nuns and monks. Even though the town is dominated by Tibetan community, it still retains a British flavor and English lifestyle.
Dharamshala has several tourist spots you can attract to. These include St. John's Church, the Chamunda Devi Temple and the ancient shrine of Bhagsunath, Kunal pathri, Maharana Pratap Sagar, Dharmkot, Norbulinka Institute, Nurpur Fort, Dall Lake, Chinmaya Tapovan, and many more.
Besides, the place is renowned for its high altitude treks and adventure sports like rock climbing and hiking over the ridges of the Dhauladhar range. Furthermore, the destination is dotted with a plethora of tea gardens, high pine trees, serenity and mesmerizing natural beauty, bringing the place in the list of the best romantic honeymoon places in India.
If you want to enjoy a lovely honeymoon with your partner in any quiet and picturesque location then Dharamshala is one of the best honeymoon places in India to head on. For those who want to enjoy Chinese and Tibetan food along with sightseeing during their romantic trip Dharamshala is amongst the dream honeymoon places in India.
GD Star Rating
loading...
Dharamshala: Enjoy Your Honeymoon in Nature's Paradise

,