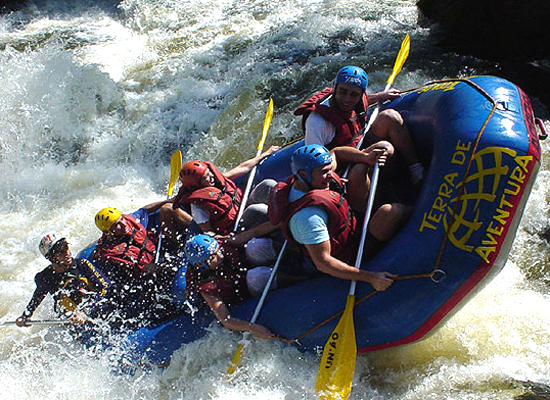 Himachal Pradesh is a beautiful hill state in India. Lying in the snow-topped Himalayan ranges, this North Indian state is blessed with unpolluted natural beauty, breathtaking sceneries, lofty snow peaks, deep gorges, verdant valleys, snow-fed rivers, enchanting lakes, mesmerizing flower carpeted landscapes, ancient temples, shrines and magnificent monasteries. All these exotic varieties make Himachal the perfect place for sightseeing, relaxing and having unforgettable holidays.
Himachal Pradesh also offers amazing opportunities for adventure freaks. Whether it's extreme adventure sports such as river rafting and banana boat riding or leisurely activities such as boat cruises and swimming, Himachal has something to offer to everyone. In short, water sports enthusiasts can enjoy a huge range of water sports activities in different parts of the state.
The two major water sports that can be enjoyed during your holiday trip in Himachal are:
River Rafting
Adventure seekers can have thrilling experience by indulging into river rafting or white-water rafting as it is commonly called in Himachal Pradesh. The snow fed rivers in the state that swiftly rush down the slopes of the Himalayan ranges offer easy to tough challenges to the rafters. The four major destinations where rafting enthusiasts can enjoy this exhilarating sport are rivers Chandrabhaga (Chenab) in Lahaul, the Satluj near Shimla, the Ravi near Chamba and the Beas near Kullu.
The white water rafting can also be undertaken in the waters of Gobind Sagar near Bilaspur, the Chamera Lake near Dalhousie (Chamba), the Maharana Pratap Sagar (formerly known as Pong Dam) reservoir in Kangra and the Pandoh lake on the Mandi-Kullu National Highway.
Angling
Angling is another exciting water sport in Himachal Pradesh and enjoying this sport in the streams and rivers of the state will bless you with an unforgettable experience. Popular streams where tourists can enjoy angling are – Beas, Sutlej, Ravi, Uhl, Baspa, Pabar, Tirthan, Sainj, Lambadug, Nugal Gai, Giri, Rana, Baner, etc. The fish species available in these streams include: Trout, Mahseer, Barilus, Schizothoracids Crossocheilus and several species of Nemacheilus and Glyptothorax. The waters of Maharana Pratap Sagar Lake have both brown and rainbow trouts. Anglers must follow the rules and regulation imposed by the state government for fishing in these streams.
In order to take full advantage of water sports in Himachal Pradesh, you should gather complete information about Himachal destinations that offer adventure sports activities. You can browse through online sources to get information about Himachal and the adventure activities it offers. A tourism agency can also provide relevant information about Himachal Pradesh and the various activities you can enjoy in this exotic state.
GD Star Rating
loading...
Water Sports in Himachal Pradesh

,