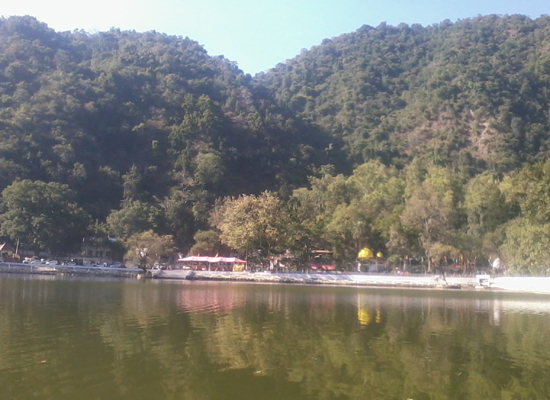 Staying at home in Nahan gives me great satisfaction. Being a laid back town, life in Nahan is slow, serene, and you get lot of time to travel in the local vicinity. It was my mother's day off from school and I came to know that it was the inauguration of Renuka ji Mata fair. I asked my brother to accompany me to the famous fair and we decided to hop in on the last day of the fair as it is believed to be an auspicious day for holy bath in the Renuka Mata Lake. It took us approximately one and a half hours to reach Renuka and the ride was worth it.
People from all the nearby villagers were there and they were all so excited to be a part of the religious fair. I met some villagers from Dadhau and they told me that they, along with their family make a visit to the fair each year. Then I met Sh. Om Prakash from Sangrah who was there with his mother, wife, two children and brother. The entire family was there since the fair started and they were staying in a tent which they got from their home. Om Prakash ji told me that it is the biggest joy for them to be in the fair. They deeply believe in the powers of Maa Renuka ji and each year to pay her tribute they make a visit to the fair.
[sliderly id=1800 type=slideshow width=550 height=400]
Then I went to the main temple and I met Vinod Sharma, the pandit ji who came from Banog Bhanedi. He told me that Prashuram ji, incarnation of Lord Vishnu, was the son of Sage Jamadagni of the Bhrugu dynasty and Renuka Mata and the fair is organized as it is said that on Ekadashi, Prashuram ji comes to visit his mother, Renuka Mata. Another pandit ji, Jagdish Sharma from Hewan near Chandni, also joined us and told us that there were four Devi-Devtas who came from their respective places. Later pandit ji took us to the raths of Prashuram Dal which came from Jammu Koti, Katah, which is in Sirmaur itself. Another rath was of Shirgul Devta which came from Churdhar, Shitla Mata from Saindhar was there and from Chaupal, Nerwa, Mahsu Devta had made a visit in his rath.
Later pandit Jagdish Sharma ji told that it's been his third year in the fair and it gives an immense pleasure to be a part of this religious place. He also added that it was Pooranmashi when we had visited and we should not miss the holy bath, which has its religious significance as it is believed to be auspicious.
After that we headed towards the fair. While taking the parikrama of the lake, I saw some men putting some grains in the sacks lined up all around the lake. I asked my brother and he told me that these are the Zamindars from the nearby villages. They put some grains for the pandits and poor people. Also there were people who were feeding the fished with dough and I was pretty excited so we purchased some dough and gave it to the fishes. It was an experience to see the beautiful fished come up on the surface of water and snag in the small balls of dough.
Then I saw a sweet shop and Jelebbis being my weakness, I hopped in for some delights for my taste buds. There I met Sh. Kartar chand ji who was a devotee of Mata Renuka and who had come all the way from Dehradoon. He told me that it was his first time that he got a chance to see the fair. He said that there is some kind of powers in the Goddess which pulled him to the fair. Having the sweets and enjoying the conversation with locals was great. While leaving the sweets shop I saw these big elaichi danas (a sugar coated sweet which is often presented as prasad in temples.)
I asked the shopkeeper and he told me that the big elaichi dana was one of the hot seller of the fair the other two were of course Jelebbis and the burfee which was made up of atta (flour). I tried a piece of the burfee and it was mouth meting and very very sweet. After so much of sweetness I had a craving for tea so we landed at Amit Gupta ji's tea stall where I wasn't that lucky to get my black tea without sugar but he made some tea with less sugar and very little milk (probably he diluted the tea with warm water). He was from Nahan, so our conversation stretched for a while. It was his first time but he was very excited and he told us that he would be there next year as well. While talking he persuaded me to have a bread pakora and this time I got my black tea without sugar. Ahh it was totally divine! Before we left, he updated us about the evening cultural show of the fair which was about to begin in some time. I am a big time Pahari Natti freak so I decided to check it out. Though it was crowded but the HP Police guys in Khakhi were very nicely doing their job. The place was quiet secure(I was surprised!) .I also saw some ministers in the fair, our MLA Bindal was there and Vinay Pradhan was also there in the fair, probably some vote bank they want to maintain, may be!
Before leaving the fair, I treated myself with some fast food at the Stall no 285-86. The owner of the stall, Siddharth Sharma, came from Paonta Saheb and it was his first experience. I had some snacks and we talked for a while. Siddharth told us that the fair was quiet crowded on the first day, then the day two and three were like normal but on the Poornima Snan Day (Poornima Holy Bath Day), it was damn crowded.
Most of the customers were from the villages nearby and according to him just 5% were the travelers like us (I and my Brother). He came to the fair to make some money and he was happy he did made some good bucks by adding many many calories to people like me. He later told me that there was a bhandara organized by some gurudwara people, he wasn't sure, but I was sure that my stomach had no place to adjust any further food. I told him that it was nice meeting him and then we left the fair.
One of the biggest fairs of Sirmaur District, the Renuka Mata fair was an experience of its own kind. It brings a smile on my face when I check out the pictures. Damn..!! It's still in my mind!
GD Star Rating
loading...
Memoirs of The Famous Renuka ji Fair of District Sirmaur

,