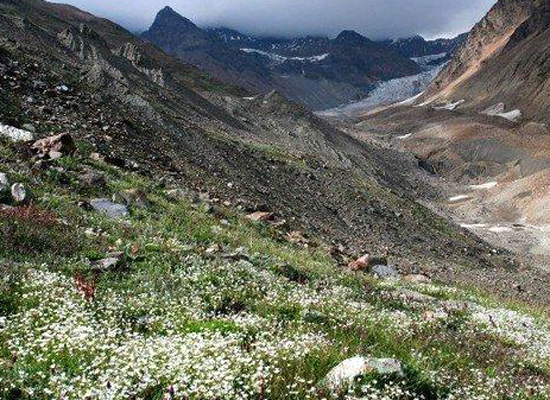 Himachal Pradesh is famous for its abundance of natural beauty. This hilly state of India is equally famous for its rich fauna and flora which have been kept safely in the state's protected area network of numerous wildlife sanctuaries and national parks.
In this article we will discuss about one of the two national parks of Himachal Pradesh-The Pin Valley National Park.
Pin Valley National Park
Located in the rocky Spiti region in the northern part of Himachal Pradesh, the Pin Valley National Park was declared a National Park in the year 1987. The park lies in the valley of the Pin River and covers a large area of the Spiti valley, in the Lahaul and Spiti district.
With its snow-capped high-altitude hills and slopes, the reserve forms a natural ecological settlement to preserve the rare Himalayan flora and fauna.
Fauna
Marking a border between the Lahaul and Spiti regions, the Pin Valley National Park is the home to many rare animals including the Snow Leopard, Siberian Ibex and Tibetan gazelle. The reserve is a natural habitat for mammals like bharal, Himalayan marmot, Indian fox, porcupine, blue sheep and various species of Himalayan bears. Some rare birds like the Himalayan snowcock, snow partridge, Tibetan snowfinch, and chukar can also be found in the park.
Flora
Because the park is located at the high altitude of the cold dry hills of Spiti region and has extreme temperatures, it sees less vegetation growth. The place is bit dry with lesser vegetation growth. However, a wide spread of Alpine forests, patches of cedar and some rare and endangered medicinal plant species can be found in this cold deserted area. In the summer you can see colorful flowers decorating the region.
While enjoying the flora and fauna of Pin Valley National Park, the visitors can also explore nearby area that are equally worth seeing. Also, staying at the bunkers constructed by the forest department around the reserve will give you a wonderful experience to savor and cherish for lifetime.
Adventure freaks who love to enjoy adventure activities like camping, hiking and trekking in Himachal Pradesh can experience the thrill of trekking in Himachal by walking on dry and rugged treks of Lahaul and Spiti. As the winters are severe in the region, many trekkers prefer to visit the state during the months of August to October. Trekking in Himachal, at high-altitude dry terrains of Spiti, is a fascinating experience.
GD Star Rating
loading...
Pin Valley National Park, Himachal Pradesh

,