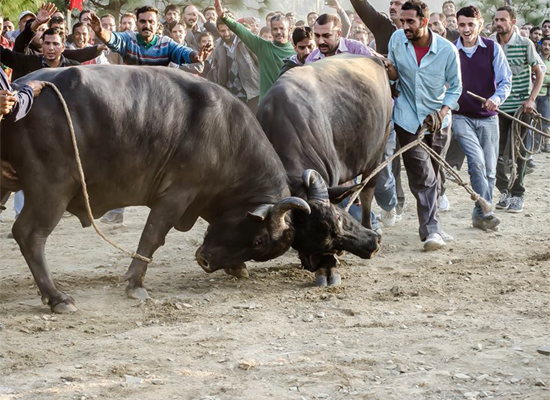 Himachal Pradesh is a state where culture is carried forward to the next generation so that they learn the brotherhood and preserve the old traditions. Shimla District's Baychari village recently had a festival which was worth a visit. The famous Jhote ka Mela has a unique rustic charm and it is a way to maintain brotherhood in the village.
Each year during October end or November first week, this festival is celebrated which has a unique fight. Yes, you read it right. Buffalo fight is the specialty of this festival and the festival organizing team makes sure that there is no cruelty on the animals.
[sliderly id=1788 type=slideshow width=550 height=400]
The jhota fight is completely safe as there are many people holding the buffaloes so that they don't fight in real. According to the local villagers, they organize the buffalo fight to pass the tradition and to give a boost to the tourism of the place.
As, during fairs and festivals people from other parts of the state visit Baychari and the small village gets some notice. To keep the spirits high among the villagers and keep the culture alive this amazing fair is organized and it was a pleasure to watch an event full of thrill and excitement.
GD Star Rating
loading...
Baychari village's Jhote ka mela: Preserving the tradition

,