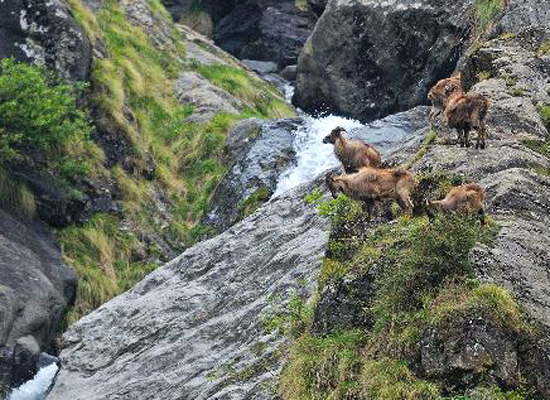 Almost wholly mountainous, Himachal Pradesh is not only crowned by the white snow peaks of Dhaula Dhar, Pir Panjal and the Western Himalayan ranges but also blessed with bottomless valleys, amazing hill slopes, glorious green meadows, flowerbeds, roaring rivers and beautiful streams.
Famous for its unmatched natural beauty, this small hill state also prides itself on having two national parks, namely the Great Himalayan National Park and the Pin Valley National Park. In this article we will focus on the Great Himalayan National Park (GHNP) and provide information about the park and its location in the region.
The GHNP
GHNP is the national park located in the Kullu District of Himachal Pradesh. The park was built in 1984 and is spread over 755 sq km of wood and grass landmass with altitudes varying from 1500 to 6000m above mean sea level. It was declared a National Park in 1999. The park is naturally protected on three sides by towering Himalayan ranges.
Fauna
This national park is home to over 375 fauna species, including 31 mammals, 183 birds, 127 insects, 17 mollusks, 11 annelids, 9 amphibians and 3 reptiles. Variety of animals can be seen in the GHNP includes Himalayan brown bear, Himalayan tahr, leopard, snow leopard, blue sheep, musk deer, red fox, as well as wild mountain goats like goral, bharal, serow and many others. Rhesus macaque and langurs are the monkey species one can spot in the national park.
The park protects a variety of colorful birds and some endangered species of birds. The bird species you might see in the park include monal, khalij pheasant, golden eagles, Himalayan griffon vultures, raptors, pigeons, cuckoos, lammergeyers, as well as the endangered species of western tragopan and a variety of migratory bird species.
The fauna of GHNP has been protected under strict guidelines of Indian Wildlife (Protection) Act, 1972, prohibiting any sort of hunting in the park.
Flora
The national park also supports an endless variety of plant life. The great diversity of vegetation includes closed canopy forests of oak and conifers, alpine meadows, shrubs, plants and various medicinal herbs. Rare species of flowering plants, shrubs and small trees include evergreen yew, spurge, buckthorn, leycesteria, taxus bacata, valerians and balsams.
Also, this Park is a trekker's paradise. Those seeking opportunities for trekking in Himachal can visit this national park. Walking on the GHNP trek routes that are dotted with beautiful meadows and steep mountain valleys will let you experience the thrill of trekking in Himachal. The glimpses of lush green valleys and the rare flora and fauna add to the trekking in Himachal Valley.
GD Star Rating
loading...
The Great Himalayan National Park: The Pride of Himachal Valley

,