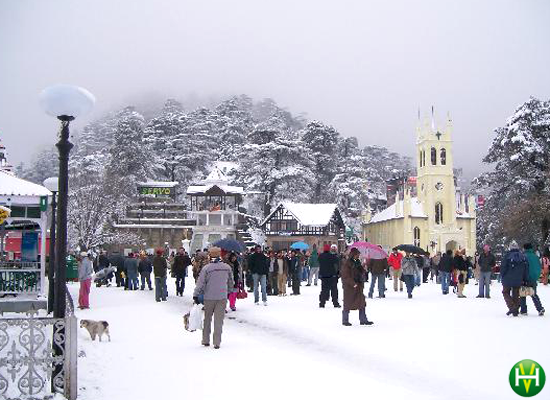 Think of Himachal Pradesh and it's likely that visions of spectacular hills, lush green forests, scenic tourist spots and ancient temples will come to your mind. Shimla, the capital city of Himachal Pradesh, is blessed with all the natural bounties which you can think of.
Located at an altitude of 7,234 feet, Shimla used to be the summer capital of the British in India. Now it's the state capital and one of the top HP touristy places of Indian's mountainous northern state of Himachal Pradesh.
This wonderfully cool and charming town is situated in the Shivalik range of the Himalayas, surrounded by oak, pine, fir, oak and rhododendron forests and snow capped peaks. Shimla is home to numerous religious places, water bodies, and other important places of interest, such as colonial style buildings, Scandal Point and historic railway.
Quite true to its name, the Queen of Hills Shimla boasts several hills, including the Jakhu, Summer Hill, Observatory Hill, Prospect Hill and Elysium Hill.
Winters are cold and chilly and summers are pleasant in Shimla, making it a tourist paradise throughout the year. The Mall of Shimla witnesses huge inflow of local and international tourists strolling and shopping in each season. In winters, Shimla's scenic beauty reaches to its peak. The hills covered in a white blanket of snow, pine woods, apple orchards, cool clean breeze and breathtaking views make the town even more picturesque than usual.
There are hundreds of hotels, restaurants and Govt. & private Guest Houses in Shimla. But getting a room in a hotel in Shimla during the peak seasons of summer and New Year can be an arduous task. It is therefore advisable to book accommodation in advance for stay in Shimla.
Shimla is popularly known as the earthy abode of gods and goddesses. One can see small and big temples, shrines and other religious spots situated in valleys, on peaks, hillsides and ridges.
There are plenty of adventure sports, winter sports, trek routes and day-hikes on offer in Shimla and in its vicinity as well. Shimla is also blessed with a number of small streams and springs
This picturesque city is certainly among the most ideal tourist places in Himachal Pradesh. No matter what your interests are, the tourist places in Himachal are wide and varied. Whether you are an adventure sport lover, honeymooner or a wildlife enthusiast there're sure to be a host of tourist places in Himachal Pradesh that suit you.
GD Star Rating
loading...
Shimla The Mesmerizing Queen of Hills

,