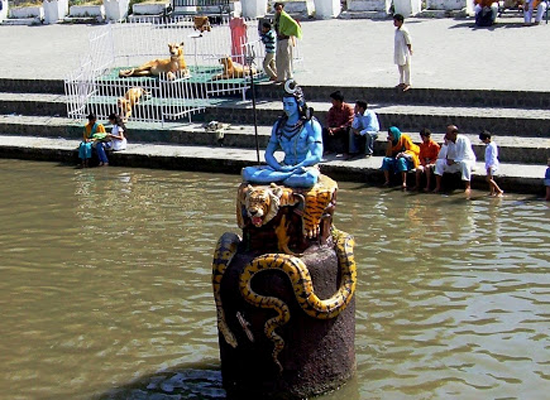 Situated in the foothills of western Himalayas, Kangra is a hilly region in the Indian state of Himachal Pradesh. This populous district prides itself on having deep cultural roots, simple people, ancient art, crafts and architecture as well as clean environment and serene natural beauty. The city also boasts of several significant Hindu temples and shrines.
Dotted with many prehistoric temples, Shakti Peetha and Buddhist holy sites, Kangra is a sacred place that every year attracts thousands of devotees from every corner of the country.
Important Temples in and Around Kangra
Chamunda Devi: This renowned holy shrine of Goddess Chamunda lies on the banks of Baner River. Not far from Palampur and Dharamsala, this ancient temple is believed to be the abode of 'Shiva and Shakti'.
Jawalamukhi Temple: Located at a distance of 34kms in south of Kangra, Jawalamukhi temple is regarded as one of the 51 'Shakti Peethas' of India. The temple is dedicated to Goddess Jawala who is considered to be residing here in the form of eternally burning flames.
Chintpurni Temple: This temple is dedicated to Chinmastika Devi-the goddess who takes away all the worries and fulfills all wishes of her devotees. The Goddess in this revered shrine is worshipped in the form of a stone lingam. This holy site is a popular place of pilgrimage.
Brajeshwari Temple: Located in old Kangra town, this temple is also one of the significant pilgrimage places in Himachal.
Baijnath Temple: Built of stone in the shikhara style, the ancient temple at Baijnath is a fine blend of sculpture and architecture. This immensely beautiful temple is dedicated to Lord Shiva and is not far from Palampur and Kangra.
Masroor Temple: Situated 38kms from Kangra Town, Masroor is known for its 15 monolithic rock-cut temples that are richly carved in the Indo-Aryan style. The monolithic stone structure mainly has three stone images of Rama, Lakshmana and Sita.
In addition to various ancient temples, Kangra is blessed with panoramic landscapes, white snow-clad peaks, deep gorges, enchanting rivers and mountain lakes.
So, for spiritual bliss one can plan a pilgrimage Trip in Himachal as all 12 districts of the state are endowed with temples, shrines and various other holy sites. A pilgrimage Trip in Himachal offers an ample opportunity to pilgrims to experience nature in its purest form during the pilgrimage.
The bottom line is that sightseeing and relaxing holidays can be very well clubbed with a pilgrimage Information about Himachal Pradesh!
GD Star Rating
loading...
Kangra: A Holy City Where Heads Bow

,