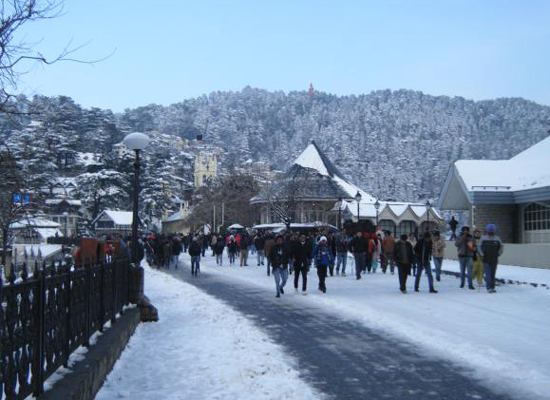 Tourism in Himachal Pradesh is catching up rapidly due to the abundance of lush green valleys, snowy peaks, icy glaciers, green meadows, and enchanting lakes in this north Indian state. In recent years Himachal Pradesh has emerged as a hot spot for adventure tourism, attracting hundreds of thousands of overseas adventure freaks to experience the thrill of adventure sports while enjoying a lovely sightseeing holiday through this exotic hilly state.‎
Adventure tourism is getting special attention in Himachal tourism industry, with state government and private companies increasingly focusing upon offering treks, adventure sports, rock climbing, camping, mountain biking and other such attractions to holidaymakers.
Himachal Pradesh is blessed with deeply dissected topography as well as with historical monuments, religious shrines and monasteries. To further attract tourists and adventure enthusiasts, a number of camp resorts have been established in and around popular hill stations of Himachal Pradesh, including Shimla, Kinnaur, Chamba, Manali, Kullu and Spiti.
The state tourism department undertakes a number of event based activities to capture the attention of worldwide tourists round the year. Adventurous events like early morning treks, rock climbing, mountaineering, rope walks, mountain biking, paragliding, mountain camping and ice skating are often organized in order to promote the adventure tourism in the State.
Kullu, Manali and Lahaul and Spiti are popular for their exotic trekking tracks. While walking through these dense green but rough treks, you get an ample opportunity to feel the eternal silence of majestic Himalayas.
Manali, Chandrabhaga, Dhauladhar and Pir Panjal ranges are hot favorites among mountaineering enthusiasts, while Bharmour and Patalsu are most sought after by rock climbers. The Pabbar and Kullu valleys and Bundla Dhar are popular destinations for paragliding in Himachal Pradesh.
Doing rafting in the snow-fed Himalayan rivers of Himachal give adventure enthusiasts a unique thrilling experience. The rivers, Satluj near Shimla, the Chandrabhaga in Lahaul, the Ravi near Chamba and the Beas near Kullu, offer tremendous opportunities for the whitewater rafting enthusiasts.
A mountain camping adventure thrills nature lovers and adventure freaks alike. There are several camping spots located at Sangla, Kalpa, Sarchu and Kaza, and near Kullu, Manali and Dalhousie in Himachal Pradesh.
If you are planning a trip to Himachal, gather as much Information about Himachal Pradesh as you can before moving out of your country. The detailed Information about Himachal Pradesh and its major places of tourist interest can be obtained from various Himachal tourism websites. There are tourist info centers in all 12 districts of Himachal Pradesh from where you can gather relevant Information about Himachal and its famous tourist destinations.
GD Star Rating
loading...
Adventure Tourism Boom in Himachal Pradesh

,