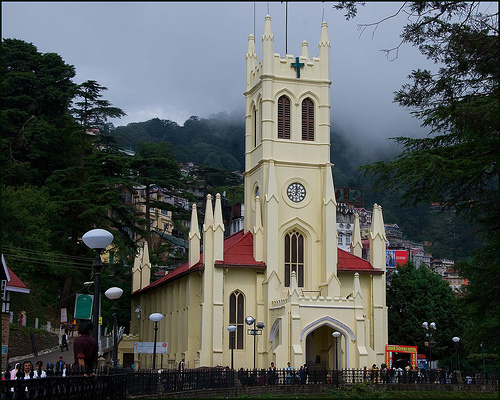 If you are looking for trance in the arms of nature, the queen of hills, Shimla is one of the best places in India. Beautiful landscapes, old and attractive British inspired architecture, scenic view, makes Shimla an amazing holiday spot.
The capital city has one or the other thing for tourists. Once in Shimla you can enjoy a peaceful and tranquil holiday. Each year tourists all across the world come here to enjoy the splendid beauty. Here are some important attractions of Shimla lined up. Scroll down and check out.
Jakhu Temple: This beautiful and famous temple is located at the Jakhu Hill which is at a height of 8000ft above the sea level. To reach here, you will have to take a two kilometers walk. According to the locals, it is believed that the Monkey God – Hanuman, during his search for the 'Sanjeevani Booti' stopped here for a while. From the top of the temple you can enjoy an awe inspiring view of the entire city.
Christ Church: This ancient church is a popular attraction in Shimla. Build in the 17th century, this is the second oldest church of North India. Here you can check out the beautiful stain-glass windows which represent faith, glory, charity, hope, fortitude, patience etc. There are amazing frescoes which surround the windows designed by Rudyard Kipling's father Lockwood Kipling.
The Mall: If you want to check out the hustle bustle of the town, The Mall Road is the best place. There are many restaurants, shops, banks, bars and café on the Mall Road and the famous Gaiety Theater is also located here.
It is a popular hangout for locals as well as tourists. If you are tired checking out the attractions of the town, just sit on a bench and enjoy a cup of coffee or ice cream while watching people.
Kufri: If you want to take a day trip from Shimla, Kufri is the best place. It is a small place which is just 19 kilometers away from the main town and you can spend an entire day here enjoying the quiet and serene beauty. Here you can visit the Indira Park, close to the Himalayan Nature Park. This is the place where you can enjoy adventure sports like skiing.
Chail: Chail is another place where you can spend a day out. Located at a distance of just 14 kilometers from the main city, Chail offers awe inspiring beauty and breath taking view. You can check out the beautiful trails on the way and the orchards as well. IT is also known as the Hikers Paradise because there are awe inspiring mountain terrain.
GD Star Rating
loading...