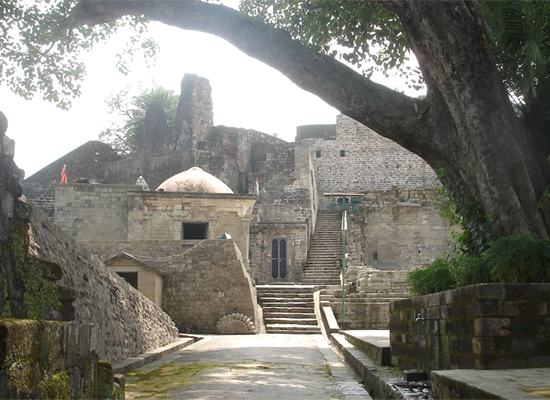 Himachal Pradesh is a beautiful mountainous state of India. Aptly named 'Switzerland of India', Himachal is blessed with wonderful climate, romantic snow-capped peaks, rolling valleys, cascading waterfalls, verdant meadows, treks and skiing resorts that all offer a perfect blend of romance and adventure to the honeymooners, thrill seekers and adventure freaks alike.
This charming hilly state also boasts of some mythological institutions as well as a number of historical forts and monuments. This article introduces the tourists to a popular fort that speaks volumes about the state's royal past.
Kangra Fort
The Fort of Kangra is the largest and the oldest dated fort of Himachal Pradesh which is located 20 km from Dharamsala on the outskirts of the old Kangra town. Today this massive fort lays in ruins because of an earthquake that wreaked havoc in the area in 1905. The fort is built atop a precipitous hill from where it overlooks the Banganga and Patal Ganga rivers. Nagarkot and Kot Kangra are the other names of this fort.
History
Dating back to the 9th century, the Kangra Fort was built by the Katoch dynasty, who ruled the land for more than 2000 years. Mahmud Ghazni took control of the fort in AD 1009. In 1337, Muhammad Tughlaq conquered it and subsequently his successor, Firoz Shah Tughlaq, in 1351. It remained trapped in the clutches of Muslim emperors till 1622, when Mughal Emperor Jahangir conquered it. In 1786, Raja Sansar Chand II, the Katoch Rajput Raja, succeeded in regaining the control of the fort. But he had to fight with the Nepalese general, Amar Singh Thapa, and Sikh ruler, Maharaja Ranjit Singh, in which the latter won and conquered the fort until it fell into the hands of British government in 1846.
Inside the Fort
There are plenty of darwajas (gates) in this ancient fort, which were built by various rulers. The entrance to the fort is through the Ranjit Singh Gate which leads to the Jahangiri Darwaza through two gates known as the Ahani and Amiri Darwaza. From the Jahangiri Darwaza, a path leads to the Andheri Darwaza. The Darshani Darwaza with two statues of Goddesses of River Ganga and River Yamuna on its sides acts as a gateway to the ancient temples of Lakshmi Narayan and Shitala Mata and the recently built Goddess Ambika Devi temple. The minaret of a Jehangiri mosque and the Kapoor Sagar tank are the other structures in the Fort of Kangra.
Besides sightseeing, tourists can enjoy a lot of adventure activities like mountaineering, hiking and trekking in Himachal Pradesh. There are numerous travel agencies that provide activities like camping and single-day trekking in Himachal regions. So, get ready to have an unforgettable experience of trekking in Himachal Valley.
GD Star Rating
loading...
Historic Fort of Kangra

,