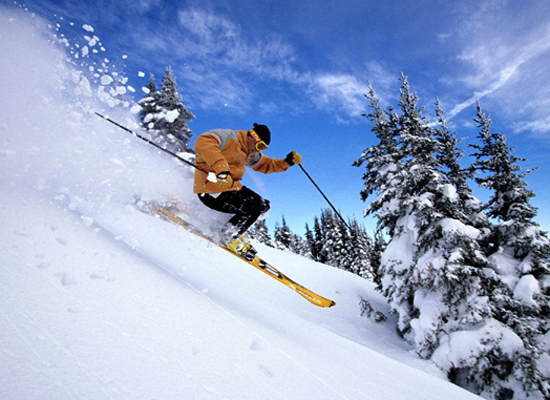 If you are looking for adventure on a summer vacation with family and friends your holidays are surely going to be the best ever amidst the Western Himalayas in Himachal Pradesh. Very few places in the world, including Himachal, are bestowed with such natural geo-topographical diversities.
Every year a multitude of tourists from foreign and domestic regions visit Himachal to enjoy a variety of exciting outdoor activities while holidaying here. In order to enjoy the best of the adventure world, Himachal offers the following listed interesting and thrill-filled adventure sports.
Golf on a Hill
Located at a distance of some 22 km from Shimla, there's an 18-hole golf course in Naldehra. Surrounded by the pine and deodar covered hills, Naldehra is more than just a heaven for golfers. This exotic hill station is renowned for its rich scenic beauty. Apart from golfing, tourists visit Naldehra for adventure activities like horse riding, trekking and hiking.
Skiing
Kufri, situated at 16 km from Shimla, is blessed with very steep and smooth slopes ideal for skiing. The pleasure of skiing makes Kufri a big centre of attraction for many during the winter season. Above Kufri, the Mahasu ridge also has gentle slopes to ski on. Also, there is a range of thick, soft snow-covered slopes in Narkanda, offering an opportunity to tourists to ski on. Apart from skiing, ski lovers can enjoy heli skiing and ice skating in Manali.
Mountaineering and Rock Climbing
Mountaineering and Rock Climbing are other interesting adventurous sports one can get indulge in Himachal Pradesh. The hillsides in Dharamshala, Lahaul and Manali offer numerous snow covered ranges of Himalayas and rock faces for exciting mountaineering and rock climbing.
Para-Gliding
If you have ever thought of flying like a free bird in the sky then it is time to turn your dream into a reality by participating in Para-gliding. This exciting sport combines sky diving and hang-gliding. Kangra district has a bald peak of billing which is the best and suitable site for Para-gliding. Other sites that are known for Para-gliding are Intkali in the Pabbar valley near Rohru, Bundla Dhar near Bilaspur and Kullu valley.
Mountain Cycling and Motor Biking
Riding a bike can be a fun but riding it on mountains can be thrilling, adventurous and dangerous as well. There are some Tourist Places in Himachal that offers extremely attractive tracks for the lovers of mountain cycling and motor biking. Cycling through the high-altitude rugged mountain tracks, waterfalls, dense forests and green slopes rivulets can quench your thirst for adventure while holidaying in various Travel Places of Himachal Pradesh.
Shimla, Manali, Ladakh and Lahaul & Spiti are some of the popular Tourist Places in Himachal Pradesh where you can make your holiday trip exciting and full of adventure.
GD Star Rating
loading...
Himachal Pradesh: A Destination to Enjoy Adventure on Vacation

,