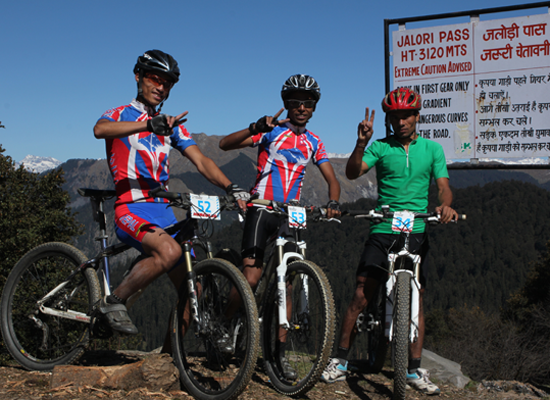 If you are passionate about biking expedition and want to bring out that cycling freak in you MTB Himalaya offers you an opportunity to satiate your thirst for a two-wheeled adventure. MTB not only offers cycling enthusiasts a chance to experience serene natural beauty of the Himalayas but also gives them a chance to scale their courage, strength and stamina.
Himachal is blessed with a wide range of terrain, varying from gentle plains to the toughest mountains in the world. The swampy, sky-kissing, rugged, remote, rigorous and difficult terrain of Himalaya offers the most challenging environment for enthusiastic bikers.
Pedaling through the roads slushy with soft mud, forest trails, narrow village backtracks and uneven single-lane rural roads enables bikers test their strength, physical endurance and their riding skill.
Mountain biking on tough routes and extremely rugged slopes and steep pitches is an excellent way to scale your fitness, confidence and bike-handling skills. Likewise, pedaling through the cold deserts of Lahaul and Spiti and Ladakh may put extreme pressure on cyclists. In some hilly areas the roads bear a lot of gravel due to landslides, making pedaling through it very difficult. Such tricky paths offer a challenge to bikers to check their mountain biking skills.
The high-altitude peaks and extreme terrain of the state may make you extremely tired, but the MTB Himalaya also offers riders a chance to see the panoramic and exotic views of Mother Nature.
MTB Himalaya is actually a combination of sightseeing and spine-chilling adventure for riders. Besides exploring that unbeaten tracks and not so frequently visited places, the biking freaks get the chance to see awe-inspiring sights of majestic mountains, crisscrossing swift rivers, dense forests, historical monuments, century-old temples and traditional life-style.
Hard-core bikers who want to check or improve their mountain biking skills or want to do something a bit tricky on their two wheeler can take MTB Himalaya challenge!
GD Star Rating
loading...
MTB Himalaya: A ticket to spine chilling adventures

,