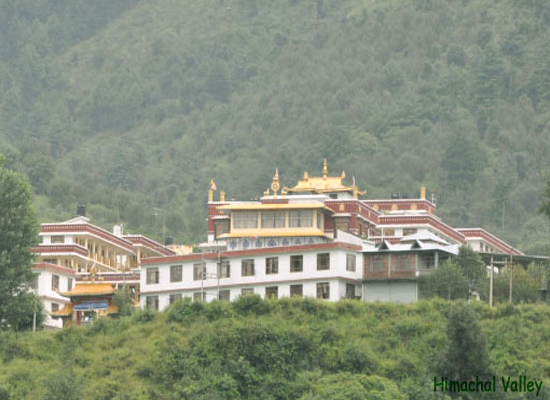 Kais Monastery of Kullu was built very recently. This monastery was inaugurated during the month of May in the year 2005 by the great Noble laureate and his Holiness, The Dalai Lama. This Monastery is exactly located near to the left bank of the Beas River. The Picturesque view of the valleys which are surrounding the place in a magical way makes the destination more appealing.
This Monastery is located very close to Kullu and almost 10Kms away from it. The best part is that anyone can see this monastery from both banks of the Beas River close to Kullu. Lush green hills are surrounding the place which makes the place a favorite destination for the tourists visiting Kullu.
The monastery gives a magical look and the same is associated with Tibetan Buddhist textual Lamrin. Dhakpo Shedroop Ling has been strongly dedicated to His Holiness Dalai Lama.
His Holiness the Dalai Lama took the initiative to thank the union government of India as well as the government of Himachal Pradesh for facilitating and helping the Tibetans people in preserving their culture and religion.
His Holiness also mentioned that it is responsibility of every people to take initiative in promoting inter-religious harmony as well as the basic human values.
In the inauguration ceremony of this monastery His Holiness was felicitated with the title of abbot of the monastery. The inauguration ceremony was quite grand and the same was attended by important personalities of Dhakpo Shedrup Ling centre in Paris, Indian Buddhists as well as Tibetian people from Kullu, Manali and many other places of the country.
You will get to learn in detail about the Tibetian culture once you pay a visit to Kais Monastery of Kullu. So make sure that you visit this place when you are in Kullu.
GD Star Rating
loading...
Kais Monastery Kullu - A place to know the Tibetian Culture

,