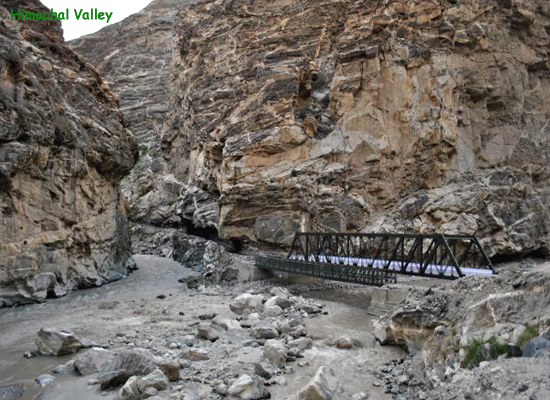 The origin of river Sutlej is from beyond the borders of India in the Southern most slopes of mountain Kailash near to Mansarovar Lake which is from Rakas Lake, also known as river Longcchen Khabab in the country of Tibet. River Sutlej is one of the largest rivers among the five big rivers flowing through Himachal Pradesh.
River Sutlej enters Himachal at a place named Shipki which is located at an altitude of 6,608 metres and then flows right in the South-Western direction passing through places like Kinnaur, Kullu, Shimla, Solan, Bilaspur and Mandi districts. Location wise you can call Shipki a part of Kinnaur.
Shipki La is basically a well known mountain pass as well as border post in the border of India-Tibet. River Sutlej enters the country of India from Tibet via this pass. This pass is a noted offshoot of Silk Road in ancient time.
The Shipki La pass is third Indian border post for business and trade with Tibetian people after the border post of Nathu La located in Sikkim, and the Lipulekh border post in Uttarakhand state of India. Shipki La pass is located very close to the town of Khab.
At present this border post Shipki is used mainly for the small-scale local trade just across the border. This boarder is no more remained opened for nonresident people. In recent time travelers preferring to visit Tibet via land follow the route through Nepal.
Shipki La looks more like a spur rather than a pass. The northern one side of it goes straight down right into the river Sutlej which is about 1000 mts below. It is one of the most beautiful places located among deep high altitudes of the Himalayas. Sutlej river almost literally passes by cutting through Himalayan chain near to Shipki la and then after that runs through the center of Kinnaur.
GD Star Rating
loading...
Knowing about Shipki La Pass in Kinnaur

,