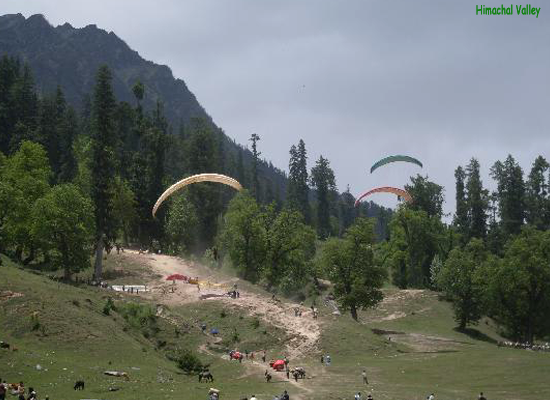 Holiday ideas in Himachal Pradesh can take you from a dip to the nature if you are looking for a serene quality time, but if you are an adventure freak, you will surely love paragliding. If you want to sail in the sky freely like a bird then try Paragliding! If flying through plane become boring.
Paragliding! Makes you feel like a true bird in the open sky, touches the cloud and see the beautiful world from the top. Paragliding, the most recently developed sport. The human foots launch the glider to air. The glider shape is like arc made of aerodynamic nylon cloth.
Below the wing a harness is suspended where the pilot sits. The pilot is running down the slope and the air pressure helps the glider to take a lift in the air. With the help of control lines the pilot controls the glider in the air.
Paragliding Haven:
Paragliding in Himachal Pradesh, helps to true your dream of flying. The winds in the mountains help the glider to lift up in the blue and calm sky. These days, the popularity of this adventure sport is on the heights due to the international or national tournaments held in Bir-Billing ( near Palampur ) in Himachal Pradesh mainly in the summer months of every year attracts participants from India as well as all over the world. The person with normal blood pressure, physically and mentally fit can easily take part in this adventure sport.
The Bir-Billing in Kangra valley becomes the best place for paragliding due to the height of 20,000 ft above sea level with a gentle slope and Himachal Pradesh Tourism also declared it as a paragliding hub. It is also known as paragliding capital and the Dhauladhar mountain range is the best location for sky journey.
The fall is about 1 km with a flight time around 25-30 minutes from the top makes the Bir-Billing a special location for paragliding. The volume of international and national championships of paragliding that are open for all hosts by the Aero Sport Institute at Bir-Billing. If you want to take participation in keep checking our website for updates.
Solang Valley, near Manali in Kullu valley is another famous place for paragliding mainly within tourists. The slopes of Solang is best suited for beginner as well as for tourist and here experts helped you to flight the glider. Other famous paragliding haven are:
Rohtang Pass near Manali (3978 m above the sea level)
Bijli Mahadev near Kullu (2460 m above the sea level)
Bandla Ridge near Bilaspur (2600 m above the sea level)
Lahaul & Spiti (4500m above the sea level)
GD Star Rating
loading...
Paragliding Sailing in the Sky!

,