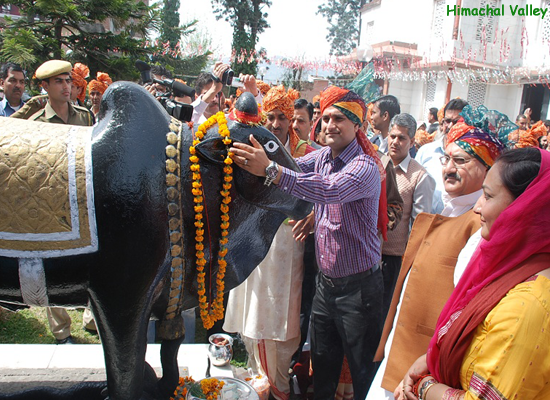 Bilaspur, a popular city of Himachal Pradesh is located at a height of 673 meters above sea level. The city of Bilaspur is situated very close to Govind Sagar reservoir which is constructed on the Sutlej River. It is one of the major town of Himachal which you pass through while reaching the destination of Manali.
One of the popular festival rather we will say a famous fair of Bilaspur is Nalwari Mela. This fair is organized in the Luhnu ground. It is one of the cultural as well as historical fair of Bilaspur which is conducted for almost 7 days every year. Mela Management Committee takes the initiative in organizing this fair.
Cultural nights are part of this fair and local artists of Bilaspur participate in this cultural nights to entertain the visitors to this fair. Yuvak Mandals, Mahila Mandals and several other youth clubs participate in this fair with their cultural performances. The cultural nights are really colorful and enjoying.
Tourists from different parts of India as well of Himachal visit Bilaspur during the Nalwari Mela time. Other popular events in this fair includes wrestling bouts for four long days, government departments exhibitions, cattle fair for three days and other sports competitions. It attracts large number of people for these events.
Proper arrangements are made by the Deputy Commissioner of Bilaspur so that guests can enjoy the fair. Sub Committee of Cultural programs is very particular about the arrangements in the fair. Security arrangements are made so that safety of the visitors can be taken care off.
If you want to experience the culture of Bilaspur then it is must for you to visit this town during the Nalwari fair in Himachal period. Different local items are displayed in the fair by local traders and we guess you will definitely love to collect them from the fair way back home.
While visiting Bilaspur make sure to visit Dholra Temple, Bandla Hills, LAXMI Narayan Temple, Gobind Sagar Lake, Jama Masjid and Vyaas Gufait. So just get your bag pack done to explore the city of Bilaspur and specially the fair of Nalwari.
GD Star Rating
loading...
Nalwari Fair Bilaspur

,