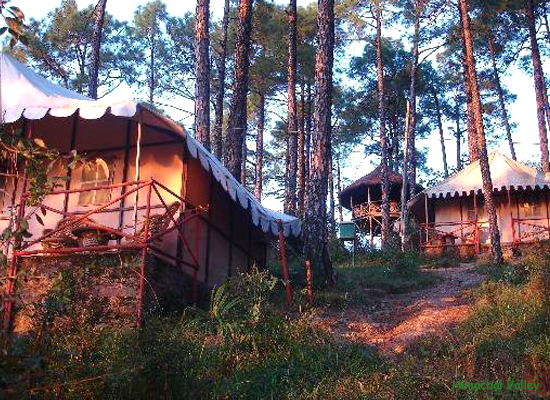 The natural beauty and picture perfect surroundings makes Shimla a hotspot tourist place in Himachal. There are many places to visit in and around Shimla and many hotels and resorts where you can enjoy your stay during your Shimla holiday.
If you are a game to adventure and rustic charm of Himachal Pradesh, you will for sure love your stay in Shimla at "Camp Potters Hill". Apart from beautiful and charming huts, tents, tree house and perfect camping facilities for solo travelers, couples and groups, this place offers some mind blowing adventure activities as well.
Here's a Sneak-a-peak to the Resort:
The "Camp Potter's Hill" resort is one of the most attractive tourist places in Himachal. Located in Van Vihar, Shimla at a height of 2030 m above the sea level, this resort covers around 100 Ha of space. The Kalka-Shimla train passes from Summer Hills railway station and the resort just 1km away from the Summer Hill station.
If you want to reach here from Shimla town, it is just 6 kms away. Camp Potters Hill is open during all the seasons but April to June is the peak time and it is usually packed with tourists during this time. So advance booking is recommended to avoid any hassle.
Here's a Peek-a-boo on Why you Should Stay Here:
There are lots of reasons to visit and stay in Camp Potters Hill, the important ones are listed below:
• Covered by pine and deodar trees, it makes a calm and graceful environment
• The bird's music during the morning and evening makes the supreme place for nature lovers
• The trekking and sightseeing arranged by the resort
• Tree house
• Bonfire
• Choice food
• Ecotourism
Accommodation:
There are 11 cottages, 1 tree house and 8 tents are available for stay where the guests can enjoy all the facilities like a hotel in the jungle. The tents offer the feel of camping and it is perefct for nature loving tourists who want to embrace nature. The tents are Swiss tent with bath attached.
There is only 1 tree house in the resort and it is the only resort in Shimla with tree house. If you want to stay in the tree house, booking it in advance will be a better option.
Facilities & Entertainment:
The resort offers a number of entertainment facilities like trekking, air gun shooting, indoor & outdoor games, treasure hunt, rock climbing, rafting, bone fire and many more for the guest.
At the time of sunset, the hot tea/coffee with snacks serves at the "Machaan" for making your sunset ultimate.
GD Star Rating
loading...
Camp Potters Hill- A Beautiful Getaway from the Hustle-bustle of City Life

,