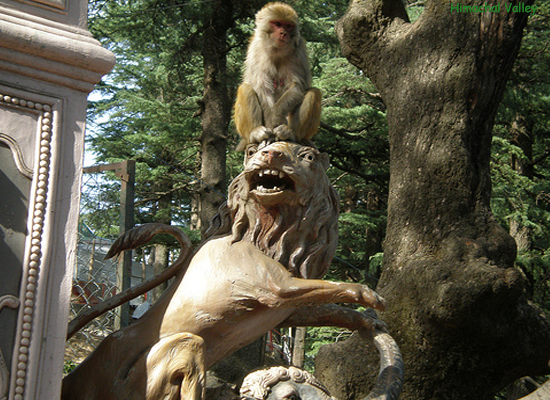 Large number of holy places in Himachal contributes to tourist places in Himachal to an extent that travel in Himachal seems like a voyage in a sacred city. The ancient Jakhoo temple is one of these beautiful temples in Himachal and is situated at the top of Jakhoo Hill surrounded by beauty of thick green forests.
The holy place is dedicated to the Hindu deity Lord Hanuman. Jakhoo, one of the holy places in Himachal is the highest peak of Shimla located at 8500 feet above sea level and is 2.5 KM east from the Ridge Shimla.
The vantage point offers a panoramic view of other hills of Shimla and distant mountains of Shivalik Range. Apart from the serenity found in temples in Himachal Jakhoo provides a scenic view which is really spectacular especially the splendid sunrise and sunset views in monsoons.
Jakhoo temple can be approached by an uphill climb starting at a road between Christ Church and state library at the Ridge Shimla. The road is initially surrounded by pleasantly looking houses and steadily deodars take over the crown of hills.
A horse or pony can also be hired or you can take a car drive by the cart road. Troops of monkeys guarding the holy premises will welcome you with various gestures. You are advised to secure your belongings like bags, spectacles, cell phones, cameras at the hotspot of monkeys as they flock here in great numbers and snatches things to get eatery in return. These monkeys don't harm you and their charming tricks will surely add up to your memories of travel in Himachal.
Legend goes that Lord Hanuman stopped here on the peak to rest for a while when he was on the search of Sanjivini plant to revive Shri Ram's younger brother Lakshman who was mortally wounded in the battlefield in Lanka.
The peak is believed much higher earlier which sunk into the earth and got flattened due to Hanuman's weight. The premise is made around the place that is supposed to have the footprints of the Lord. 108 feet tall statue of Lord Hanuman at the temple can be viewed from all over Shimla and drags tourists to the spot.
When you travel in Himachal this statue is surely captured in your collage of tourist places in Himachal. The same weighs 1500 tones and was built at a cost of 1.5 crores. Sensors provided to the idol keeps birds and other flying objects away from it. It was inaugurated by Bollywood actor Abhishek Bachhan on 5th Nov, 2010.
The place is highly revered by the locals like other temples in Himachal and Dussehra keeps the place eventful as holy places in Himachal are busiest and beautifully decorated during festivals to give people occasion to get-together and celebrate.So, add Jakhoo temple to the inventory of your tourist Places in Himachal to enjoy the wonderful vista along with holiness of kingdom of monkeys.
GD Star Rating
loading...
Jakhoo - Sacred Kingdom of Monkeys

,