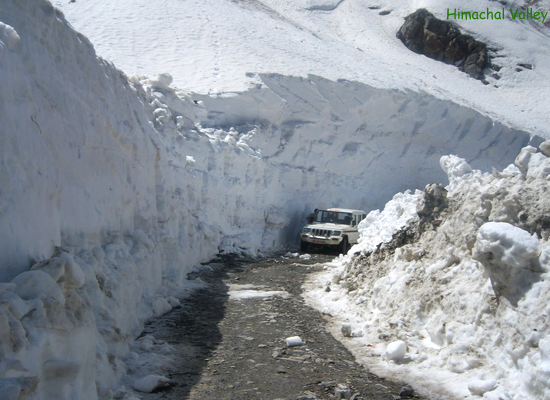 Rohtang Pass is a must to visit destination when you plan to Travel in Himachal completely. The route of Rohtang Pass is 51 Kms. This is a lofty pathway in between the mountain connecting Spiti and Lahaul with Kullu. To get the true feel of snowfall in Manali you need to pass through Rohtang Pass.
Rohtang pass is located at a height of 4111 meter from the sea level. Mountains, glaciers and the landscape surrounding the pass gives a panoramic view. Those who love trekking can enjoy it in this pass.
The pass remains open for the period from June to October. It is one of the popular Tourist Spots in Himachal. While passing through this Pass you will get to see beautiful glaciers and the free flowing Chandra River down the valley of Lahaul. Slightly towards the left of Chandra river is located the famous twin peaks of the Geypan.
Regular Bus services are available in between Manali-Keylong/Darcha, Spiti, Udaipur, and Leh. In case you are planning to visit this destination then give a check to the weather condition and it may take a dangerous shape due to high flow velocity wind and heavy snowfall.
All types of adventure sports arrangements on this pass which include mountain biking, paragliding and skiing. This is one such destination of India where you will get to see snow fall all the year round. People from distant places come to this state to visit popular Tourist Places in Himachal and Rohtang pass is one among them.
Rohtang Pass is considered as 'Highest Jeepable Road in the World' offering excellent scenic view to impress the travelers on this Pass. Some of the other nearby attractions to Rohtang pass includes Rahala waterfalls, Marhi and Solang Valley.
Private Vehicles are not allowed to cross the pass. So, tourist need to book local taxis or small cars to enjoy the panoramic view of this Silver pass. The rates of the taxi's and cars are fixed by the Union and so you will not get the chance to bargain on the rates.
Rohtang pass is considered as one of the best places in Himachal Pradesh where people from all across globe visit in large number every year.
GD Star Rating
loading...
Explore Himachal beauty on a journey through Rohtang pass

,