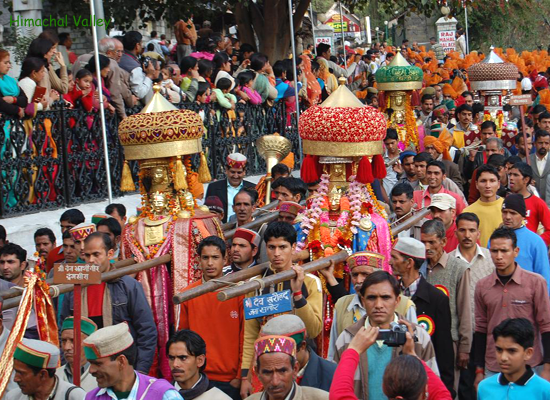 Mandi Shivratri Fair is a popular fair which is conducted every year in Mandi, Himachal Pradesh on the auspicious occasion of Maha Shiv Ratri. The puja of Shiv Ratri is done on Krishna paksha on the 13th day or 13th night of the waning moon in the month of Phalguna. Tourist from distant places visits Mandi on this auspicious occasion.
This celebration is of international standard. So having widespread popularity all across globe. Gods and goddesses from 81 temples of Mandi are specially invited to attend the celebration of Maha Shiv Ratri.
People of Mandi are religious minded and special care is taken by them for the smooth and happy celebration. Mandi Shivratri Fair transforms the town of Mandi into a Grand venue of international significance.
This fair is attended by almost 200 deities of the district of Mandi. It is a popular fair in Himachal. The town of Mandi is situated near the banks of the river Beas and popular called as "cathedral of temples". The fair is specially conducted for the Mandi protector deities Lord Shiva from the Bhoothnath Temple and Lord Vishnu from the Madho Rai temple.
If you want to explore Himachal in true spirit then travel in Himachal holy places and one such place is Mandi. Weeklong celebration of Shiv Ratri made this place a popular destination for devotees of Lord Shiva and Lord Vishnu.
Most temples in Mandi are of Shikara Style of architecture and popular among them are Bhoothnath, Panchvaktra, Trilokinath and Ardhnarishwar. The Town gods are carried in grand way on Ratha to participate in this festival and to pay a visit to Madho Rai temple. After this they proceed with shoba yatra to Bhoothnath Temple.
Folk Music of the Himachali people creates the atmosphere of celebration. Functions are held in paadal on this occasion. Local Traders carry their handmade handicraft products in this fair for sale. People visiting the fair prefer buying handmade items from the fair.
State level Shivratri sport is conducted by the Himachal Pradesh Government in this fair. Now the celebration of Shiv Ratri takes place in the Paadal Ground now to accommodate the increasing population of the visitors to Mandi in this auspicious occasion.
GD Star Rating
loading...
Mandi Shivratri Fair- A must to visit

,