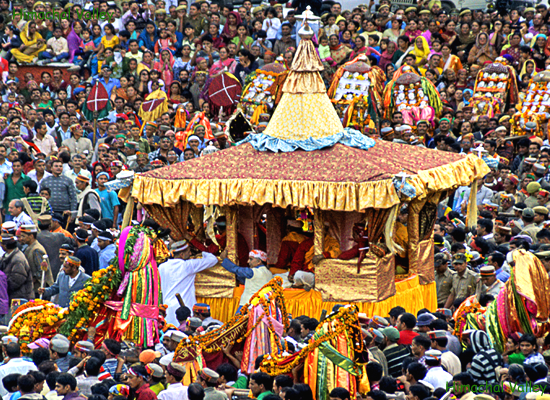 Dussehra is one such festival which is celebrated all over India in a grand way. Dussehra in Kullu district of Himachal Pradesh is celebrated in Kullu Valley's Dhalpur maidan. This festive celebration is observed mostly in the month of October every year. The festival starts on the 9th day when the moon is in rising mode.
This day is popular in the name of Vijaya Dashami. After this day the celebration continues for next 7 days. If you plan to travel in Himachal holy places, then you must visit Kullu during Dussehra time. Traditionally it has been observed that more than two hundred deities are worshipped in Dussehra celebration in Kullu.
Devotees visiting this holy place offers puja to Lord Raghunathji. The silver valley of Kullu gets covered with different colors and melody of music.
Kullu Dussehra is recognized as a festival which is of international significance. Special arrangements are made by the organizing committee so that devotees can pay the homage to Lord Raghunathji in a blissful manner. Kullu fair in Himachal during Dussehra time is very popular.
Cultural troops from different parts of the globe visit Kullu during this time for performing in the fair. When we look back to history of this festival in Kullu we will get to learn that during 16th Century period Raja Jagat Singh made the installation of the idol of Lord Raghunathji on his throne as a symbol or mark of Penance.
The people of Kullu are fun loving and want to enjoy the life in a colorful way. If you visit Kullu during Dussehra you will get that feel among the people. The idol of Lord Raghunathji is taken in a Ratha during Dussehra. People visiting the Dussehra fair in Kullu remain busy in buying, selling, enjoying, singing and dancing during all these seven days of the festival.
The fair or mela grounds get flooded with stalls and people roam from one to the other to buy different handicraft items of Kullu. International Folk festival is also organized during this period. If you want to explore Kullu, then pay a visit to this magical destination during Dussehra.
GD Star Rating
loading...
Kullu Dussehra - A festival of International Significance

,