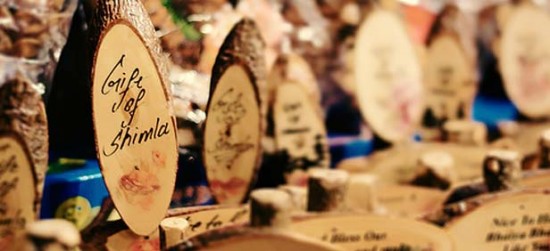 Lakkar Bazar, in Shimla is also known as the wood bazaar is the marketplace and it is one of the places of special attractions in Himachal. The wooden goods that are sold here give you good value for money spent and can be taken back home as souvenirs of your visit to the place of special attractions in Lakkar Bazar.
These are meant for purchase by tourists who come here and natural herbs and dry fruits are also sold. The market area also has a roller skating rink which is one of the special attractions in Himachal's Lakkar Bazar. And the best part about the market here is that the items are much cheaper than in Delhi and all other cities. There are various kitchen items.
The Sikh carpenters from Hosiarpur come and settle down here for a living. It is these people who make the wood products from deodar and walnut wood and sell them in Lakkar Bazar. The prized item is the carved walking stick which every hiker must buy. The Lakkar Bazar is the base from where the trek starts the climb to the Jakhoo peak.
The Lakkar Bazar marketplace is one of the special attractions in Himachal for people who want to buy wooden goods at a cheaper price than in other cities. The roller skating rink is also one of the special attractions of this place. The Indira Gandhi Hospital is adjoining this place. There are many places to put up here because tourists looking to visit places of special attractions in Himachal come here.
When going to nearby places of special attractions in Himachal like Shankli, Chapslee estate and Longwood, people have to travel through Lakkar Bazar. The Lakkar Bazar market area is a place where many Sikh carpenters come from various regions and settle down. They create ornate carvings in wood which are prized products for purchase by Indian as well as foreign tourists. Wooden walking sticks are quite famous here.
You can go on a trek carrying one. This is one of the most interesting places of attractions in Himachal with the market and its wide array of food stuff, carpets, woolens, wooden furniture and also kitchen utensils made of wood. As people visit the places of special attractions in Himachal there are numerous food joints here selling food stuff like choole bature which is a much sought after delicacy for the locals as well as the tourists.
Shimla is connected to Kalka through the borad gauge and Kalka in turn has a good connectivity to Chandigarh, Kolkata, Ambala, Delhi and Mumbai. It is connected to all major cities in India by railways. You can avail of taxi services between Kalka and Simla.
GD Star Rating
loading...